A rematch in the cards
Out of the six decisive games played at the Candidates Tournament so far, five of them saw either Ian Nepomniachtchi or Fabiano Caruana scoring full points. Nepo has three wins to Caruana's two, which leaves the Russian alone atop the standings going into the second rest day of the event.
With Hikaru Nakamura and Richard Rapport — Caruana's closest chasers — a full point behind the US grandmaster, it seems likely that the fight to become Magnus Carlsen's next challenger will turn out to be a two-horse race. Coincidentally, the two frontrunners are the two players who last challenged Carlsen in World Championship matches.
While the world champion struggled to beat Caruana in 2018, he saw Nepo collapse in the second half of the 2021 match. The question as to whether Carlsen would accept to face either of these two players is becoming increasingly relevant given the results seen so far in Madrid. Anish Giri has (jokingly) proposed a swift solution:
Ok, Nepo playing Fabi for the Wch title and let's call it a day.

— Anish Giri (@anishgiri) June 23, 2022
Nepo's kingside attacks
As pointed out by Tom Rendle on Twitter, Nepo's three wins in Madrid have featured kingside attacks, no matter whether he had the white or black pieces.
Facing Jan-Krzysztof Duda with white, another feature of Nepo's performance throughout the event came to the fore: his quick, confident play even in tough positions. The Russian clearly out-prepared his opponent, who began taking long thinks as early as on move 9.
By move 18, Black already had plenty to worry about, as the white pawns marched down the board on the kingside.
Duda had some defensive resources, but was clearly down on the clock and, more importantly, was facing an in-form, confident Nepomniachtchi.
Four moves later, the Russian correctly rejected to defend a loose pawn on the queenside, as he kept his attack going by pushing his f-pawn to the fifth rank.
There followed 23.f5 Qxb2, and Nepo failed to find the most precise continuation in 24.Rc3, lifting the rook and defending the e5-pawn. His 24.e6 did not give away the advantage, but allowed his opponent to somewhat relieve the immediate pressure by simplifying the position.
Soon after, Duda gave up his bishop for a couple of pawns. A quick loss had been prevented, but Nepo continued using his major pieces to create direct threats against the black king.
By this point, Black's counterplay had almost fully vanished, with the connected central passers too slow to create real problems for White.
Resignation came three moves later, as the g7-pawn became all but indefensible for Duda.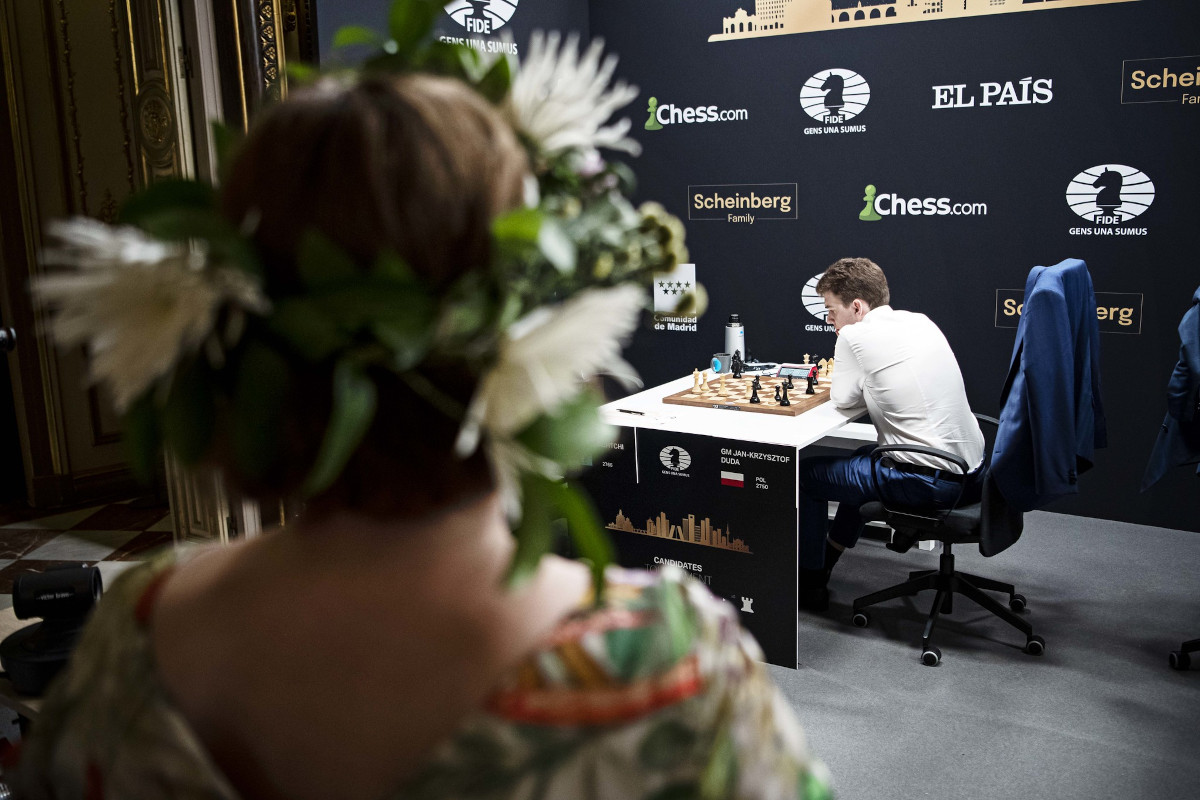 Dealing with a lost position — Jan-Krzysztof Duda | Photo: FIDE / Steve Bonhage
Caruana beats Firouzja with black
Alireza Firouzja has been struggling in Madrid. The youngster played the fashionable Catalan Opening with white against Caruana, and found himself grappling with a tough decision regarding how to develop his pieces on move 13.
This setup illustrates how difficult it is to handle these Catalan positions. White must decide between 13.e4, which gains a tempo but blockades his bishop; 13.Nc3, which might be responded by 13…Nxc3, spoiling the structure; and 13.Nd2, the manoeuvre chosen by Firouzja after no less than 39 minutes worth of thinking time.
While Caruana — an excellent theoretician — only blitzed out his first five moves, he spent over 10 minutes on a single move only once in the whole game. Much like Nepo, he played confidently throughout, as he slowly but surely improved his position.
On move 20, Firouzja incorrectly entered a tactical sequence which left him on the back foot for the rest of the game.
20.Rxd7 counts on the fact that after 20…Qxd7 White can skewer queen and rook with 21.Bh3. However, the concept fails due to 21…f5, which Caruana had no problem finding — a great calculator, he correctly assessed the tactical consequences of what is, after all, the most forceful move in the position.
Firouzja's best response here was 22.Bxf5 (Black has 22…Qe8 in this case), but went for 22.exf5 instead. Caruana found himself an exchange up and soon enough grabbed the initiative by pushing his e-pawn down the board.
In the remainder of the game, Caruana showed he is in great form, as he kept finding the most trying continuations, including 28…e3 here, which in fact gives up the pawn to further open up the position — 29.Kg2 Rd8 30.Rxd8+ Nxd8 31.fxe3
Black went on to activate his rook by transferring it to c2, and improved his knight by placing it on the strong g5-outpost. Firouzja looked for defensive recourses until move 42, when he decided it was finally time to throw in the towel.
Alireza Firouzja facing Fabiano Caruana | Photo: FIDE / Steve Bonhage
Radjabov's missed chance
Surprisingly, the one Candidate who has yet to play a decisive game in the tournament is Richard Rapport. The ever-creative Hungarian has drawn all six of his games so far.
More than once, Rapport has escaped with half points from inferior positions, though. On Thursday, he and Teimour Radjabov explored a thrilling line out of a Sicilian Taimanov, in which precise calculations by both sides kept the position dynamically balanced.
An endgame with rooks and opposite-coloured bishops eventually appeared on the board. With the time control approaching and after having found many precise moves throughout the game, Rapport unexpectedly faltered. Radjabov, in turn, failed to play the winning move.
Black is three pawns up, but it is all about king safety here. Radjabov has his two rooks on open files, while his dark-squared bishop is optimally placed to create problems for the black king. White is threatening to infiltrate with his rook to f7, but he should first deal with the fact that his strong bishop is under attack.
Shockingly for the spectators, instead of the winning 39.Bh2, Radjabov went for the immediate 39.Rf7, allowing 39…Rxe5 40.Rbxb7 Rb5, and a draw was agreed.
It was an incredible miss by Radjabov, and fatigue might have had something to do with it. But, as GM Robin van Kampen put it, missing such a move was certainly 'no bueno' for the Azerbaijani star:
Missing Bh2 really is no bueno by Radjabov. Nothing to calculate there it seems…

— Robin van Kampen (@robinvkampen) June 23, 2022
Teimour Radjabov | Photo: FIDE / Steve Bonhage
Round 6 results
---
Standings after round 6
---
All games
Links