A three-horse race
Two 17-year-olds and an 18-year-old are fighting to win the Challengers tournament at the Prague Chess Festival. Currently world's numbers 2, 3 and 7 among junior players, the three rising stars have not disappointed, as they have been the strongest among the ten players eyeing to get an invitation to next year's Masters section.
After seven rounds, Vincent Keymer and Nodirbek Abdusattorov are sharing the lead on 5 points, while Hans Niemann stands a half point back. Niemann lost his round-2 encounter, but has won all three of his games with white since. On Wednesday, the US grandmaster outplayed Zbynek Hracek in a double-edged Najdorf Sicilian.
Niemann had spent 11 minutes before playing 12.g4. Two ~2500-rated players replied with 12…Qb6 in the past and won their games, while Zbynek's 12…b5 had only been tried once, by a 2100-rated player in 2016.
Instead of moving the bishop from c4, White can respond by 13.e5, attacking the rook on a8. This was the strongest move according to the engines, and one that apparently Niemann had foreseen, as he only spent 5 minutes before playing it — in an extremely sharp position. At this point, Zbynek noticed he was in trouble and needed almost a half hour before playing 13…Bxe5, the engine's first suggestion as well.
After 14.fxe5 d5 (14…Rb8 is stronger) 15.Bb3 Nxe5 16.Qg3, White emerged from the complications with a piece for two pawns. More importantly, Niemann's attack on the kingside was quicker and more effective than Black's counterattack on the opposite flank.
Niemann got to finish the game in style.
27.Nxf7 Kxf7 28.Qf6+ Ke8 29.Qh8+ Kf7 30.Qh7+ Kf8 31.Rf1+ Ke8 32.Qxg6+ Ke7, and then came yet another knight sacrifice.
33.Nxd5+ exd5 34.Rf7+, and Black resigned with mate-in-four on the board.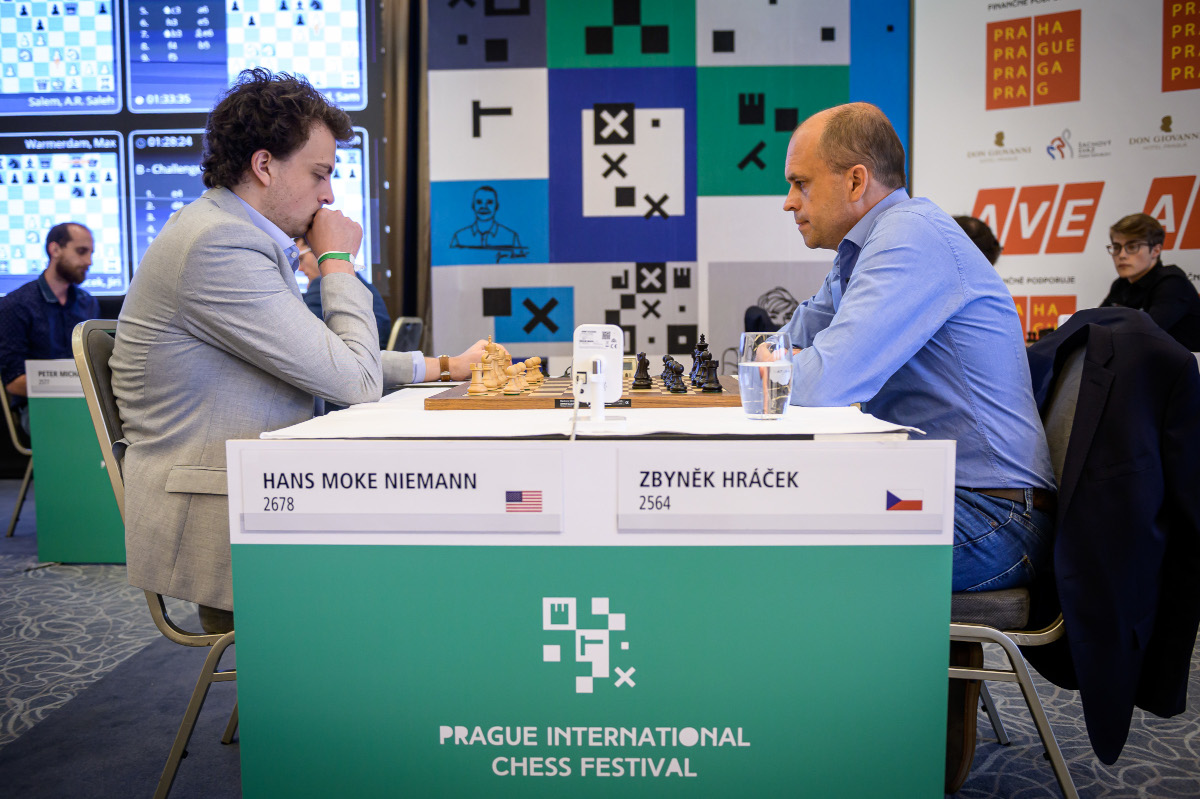 About to enter a sharp Najdorf — Hans Niemann and Zbynek Hracek | Photo: Petr Vrabec
Round 7 results – Challengers
Standings after round 7
All games
Shankland and Salem score
Meanwhile, in the Masters, Le Quang Liem is the sole leader with two rounds to go. Pentala Harikrishna is his closest chaser, a half point behind. Given the Masters players' form in Prague, Hari has good chances of catching his Vietnamese colleague, as he is set to face the field's lowest scorers in the final rounds: Saleh Salem and David Anton.
Salem was sharing last place with Anton until round 6, but managed to defeat the latter in their round-7 direct encounter to leave the cellar of the standings table.
A half point behind Harikrishna, three players still have outside chances of winning the event. Among them is defending champion Sam Shankland, who defeated Parham Mghsoodloo with the white pieces on Tuesday.
Engines evaluate this position as close to equal, but for a human playing black, a tough defensive task lies ahead: his opponent has the better structure and the outside passed pawn on the kingside. Shankland kept upping the pressure until scoring his second victory of the event in what turned out to be a 76-move encounter.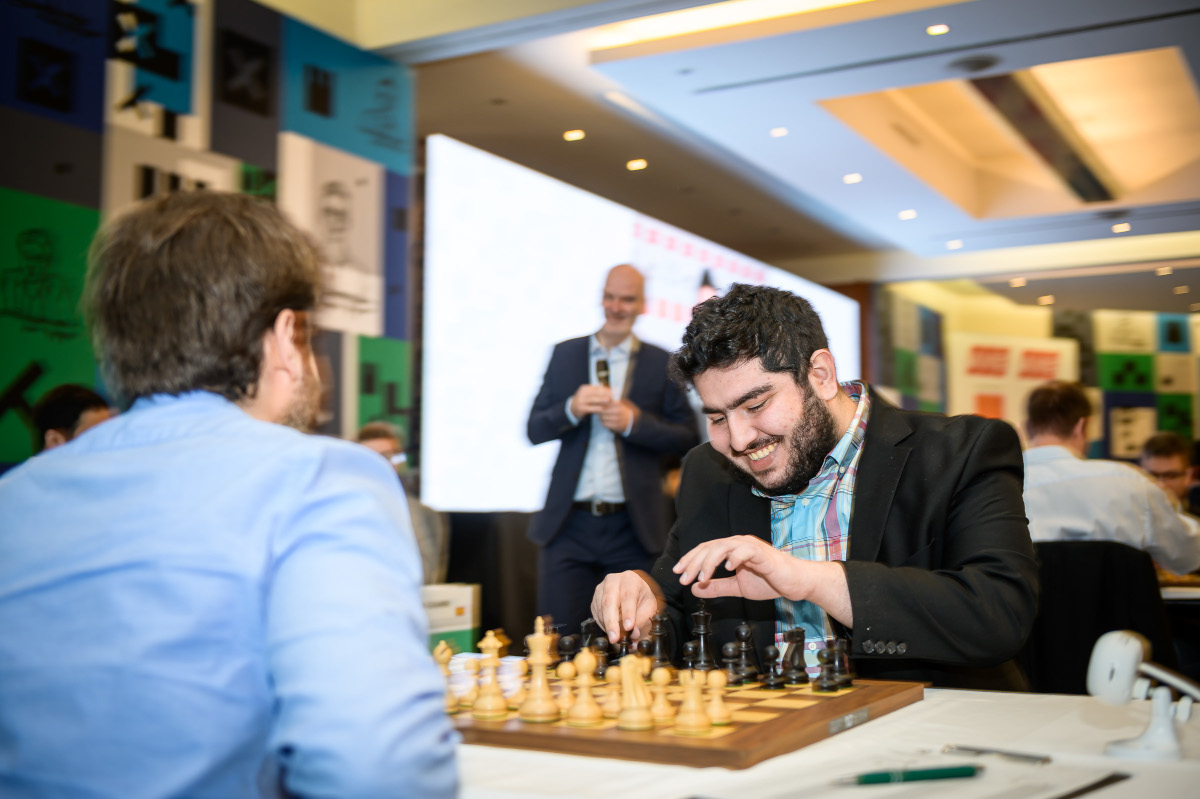 Sharing a laugh before the start of the game — Sam Shankland and Parham Maghsoodloo | Photo: Petr Vrabec
Round 7 results – Masters
Standings after round 7
All games
Links