It seemed a sign of the times. Printed newspapers were dying left and right, and many were unable to transition into a financially viable digital model. The New York Times was one that did, but chose to trim away some of its deeply traditional content, much to the regret of … everyone. Among those was the weekly chess column whose flame still burned thanks to staff journalist and chess aficionado Dylan Loeb McClain.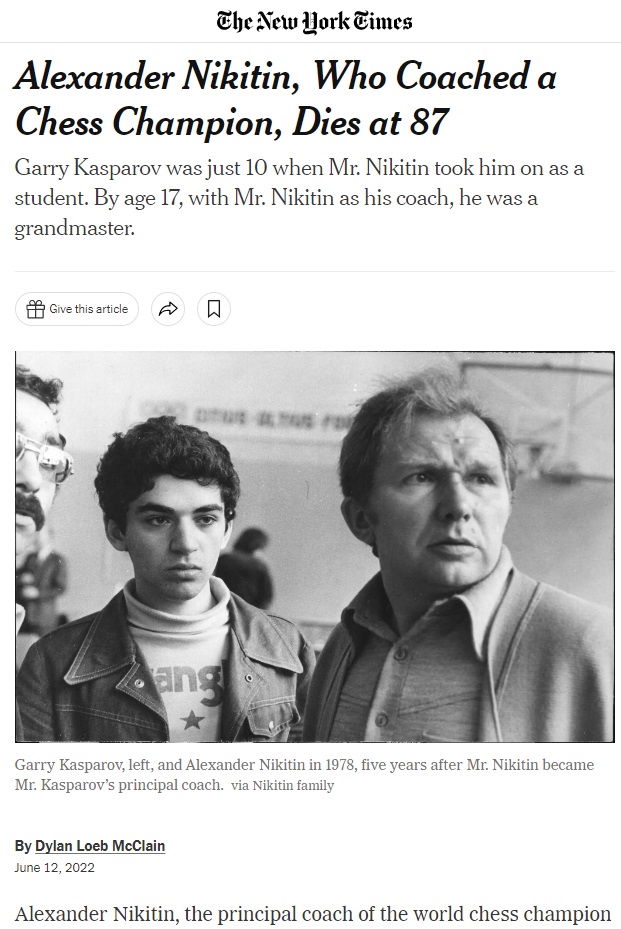 Dylan Loeb McClain has been the driving force behind regular articles on the chess world in the main body of the newspaper, finding ways to keep it interesting and connect with the readers. He published this obituary on Kasparov's longtime coach, Nikitin, just Sunday.
The New York Times was hardly the first to eliminate what some deemed as 'fluff', but in many ways it was precisely such content that helped give that media its character. There was talk of ways it might be resurrected, and what would be needed to drive such a project to success. Slate wrote a scathing commentary decrying how boring it had become and the need to bring in world class players with colorful writing.
Even Stephen Moss from The Guardian wrote a commentary that saw this is a one way door, stating that chess was dying as a mainstream pursuit.
Nevertheless, in a lengthy and enlightening reply, Mr. McClain gave a very different light to the topic, explaining that while much of what was asked for might seem desirable to some readers, it ran completely contrary to the newspaper's journalistic demands and factual reporting. Any attempt to insert any form of voice was promptly edited out, and he was politely but firmly asked to refrain from such. Entertaining chess columnists such as Kavalek or Short were simply not what the paper wanted, even when it was ready to maintain a chess column. Years went by, and though McLoeb continues to report on chess affairs in the main body of the New York Times, the dream of the chess column returning dwindled into the shadows, forgotten. Almost.
It was not with a little surprise that Sunday's edition announced its return, spearheaded by GM Daniel Naroditsky.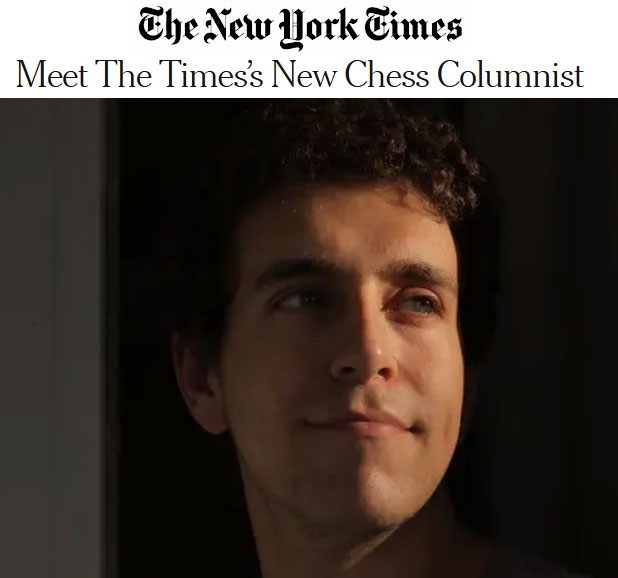 The NYT writes:
The first thing you notice about Mr. Naroditsky is how amiable he is. He smiles easily and likes to explain the topics we talk about thoroughly. It is important to him that he communicates effectively… One of his private chess students, Ryan Amburgy of Tulsa, Okla., said that this quality was what made him a good teacher: "His knowledge of chess is incredible, and he is able to explain concepts in ways that are easy to understand and put into practice. He also has an amazing sense of humor, which makes the learning process fun."
The young grandmaster, aged 27, is already a well-established author and columnist, having made a name for himself as one of the youngest chess authors of all time when his book, Mastering Positional Chess, came out under the aegis of New In Chess when he was not yet 15. This actually helped him beat another lesser-known record by Bobby Fischer, at least as a precocious US chess author. He also wrote "The Practical Endgame", a column in Chess Life magazine, from 2014–2020.
Daniel Naroditsky's first book was written on the not-at-all obvious choice: positional chess. Bear in mind he was 14 when he wrote it. His next book was on endgames.
The New York Times column is scheduled to come out each Monday, starting June 13, and has already seen its first edition:

The column breaks from the time-honored model of the past, at least insofar as the digital version is concerned, and presents a chess replayer with an introduction to the week's puzzle, followed by commentary to the reader's replies, whether correct or mistaken, until the end of the solution.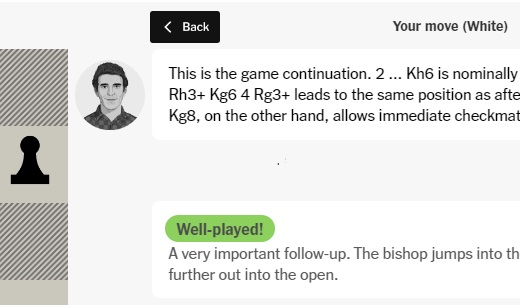 As a subscriber, I cannot say whether this will be readily seen by all readers, but if not, an initial subscription is offered for an exceptionally low rate for the first year, at $1/month. Once this passes, it is adjusted to $1/week, but for the quality and quantity of content offered by the NYT, including its vast archives, it is a steal.
All said and done, it was a wonderful surprise to see that after witnessing the loss of ground by chess in mainstream media, powerful new names that have helped revitalize it, such as Magnus Carlsen (remember that in 2014 he had just barely become champion), Hikaru Nakamura and his hugely popular Twitch streams, showing how appealing it can be, and of course the groundbreaking miniseries The Queen's Gambit after which chess was on everyone's map. May this be the beginning of a trend of reversal, regaining the lost ground, and we wish GM Naroditsky and the New York Times the greatest success.
Links: