The Averbakh variation in the KID
Yuri Averbakh died on May 7, aged 100 years. His contribution to the world of chess cannot be underestimated. He was a distinguished player (twice Soviet Champion), trainer, opening theoretician, endgame expert, study composer, arbiter, chess politician, journalist — and I have probably missed something.
I am focusing on the Averbakh variation of the King's Indian, the system that he developed and pioneered in the 1950s. His work was ground-breaking, and it remains one of the most reliable set-ups against the King's Indian.
Warm-up questions: How did Averbakh begin his grand strategy?
And in the next position, what long-term strategy did Averbakh employ?
Can you devise a strategy for White?
Averbakh was also a great study composer. White to play and win
---
---
This week's show
---
Previous shows
You'll find older broadcasts in the Power Play category. To watch these you'll need a ChessBase Premium Account.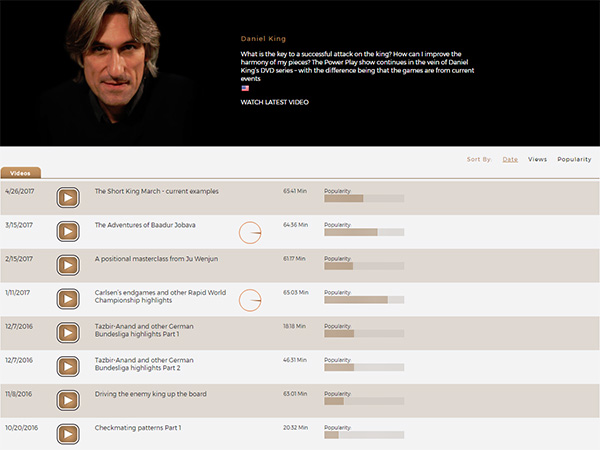 ---
Daniel King is the prolific author of the Power Play series which numbers 28 volumes to date.  The Tactic Turbo for the King's Gambit is the subject of his most recent DVD.
Here's a teaser:
---

Power Play 28: Tactic Toolbox King's Gambit
Daniel King presents 50 puzzle positions in video format, all arising from the King's Gambit. They feature typical tactics from the opening, so this is a great way of becoming familiar with the tricks and traps that you can set your opponent.
---
Links