For the opening of the second round of the Norway Chess Tournament, the organizers invited representatives of the tournament's partners. The five VIPs played symbolic first moves on the five boards: Monica Runestad from 2020 Park for Teymur Rajabov, Ole Morten Dreyer from Dreyer Bolig AS for Maxime Vachier-Lagrave, Morten Viksoy from Reiten &Co for Wesley So, Snorre Ellefsen from Sparebanke 1 SR – Bank for Veselin Topalov and Espen Ydstebo from Base Group for Wang Hao.
Wesley So, one of the two 3-0 winners from the first round, alongside Anand, faced Magnus Carlsen in round 2.
The world champion had previously posted pictures of his preparation for the second round.
Refreshed by this excursion, Carlsen played the Meran Variation in the Slav Defence, but Wesley So avoided his offer with a calmer move (6.Qc2). After most of the pieces were exchanged, the game quickly withered down to a draw in an endgame with rook and bishop.
In contrast, the subsequent Armageddon game was much more entertaining. In a sharp variation of the Italian Game, first So, then Carlsen had very good winning chances. Then a carelessness in the ending decided the game.
Wesley So beats Magnus Carlsen in an exciting Armageddon tiebreak! #NorwayChess

Watch the game: https://t.co/Tr9TiCGT7y pic.twitter.com/XRz5N2b05j

— Norway Chess (@NorwayChess) June 1, 2022
Wesley So got an extra half point after winning the tiebreak.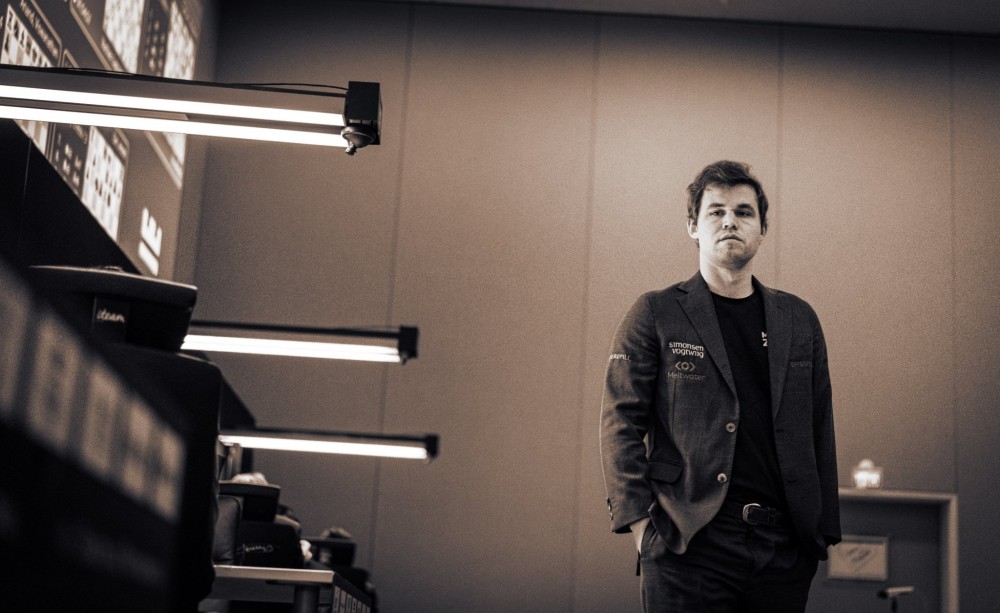 Magnus Carlsen lost the Armageddon decider
Next up, the game between Maxime Vachier-Lagrave and Shakhriyar Mamedyarov in the Schara-Henning Gambit ended in a draw on move 30. In the following Armageddon game, Vachier-Lagrave gained the upper hand out of a Pertoff Defence and converted his extra pawn into a win in a minor-piece endgame.
The Schara-Henning Gambit was also on the board in the encounter between Teimour Radjabov and Aryan Tari. After an early exchange of queens, a popular endgame appeared on the board. Radjabov won the tiebreak game.
The game between Wang Hao and Anish Giri also ended without a winner. In a variation of the Najdorf Defence, Giri improved on a predecessor game and sacrificed an exchange on move 22. The ensuing complications ended in perpetual check.
The half-point in the Armageddon game went to Anish Giri.
In the fifth game, Anand and Topalov, the two opponents from the 2010 World Championship match, faced each other.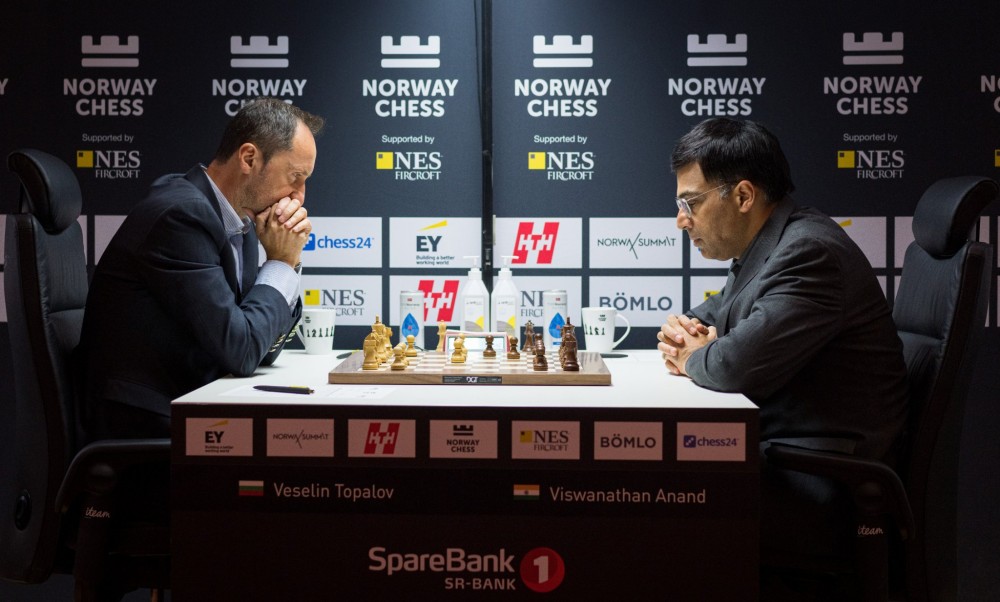 With the black pieces, Anand held the gambit pawn for a while in a Queen's Gambit Accepted. He then lost it and even gave up another one in the middlegame. For the material disadvantage, Anand got good piece play. Topalov spent too long trying to figure out all the intricacies of the position, and finally lost on time.
---
Standings after round 2
| | | |
| --- | --- | --- |
|   | Name | Points |
| 1 | Viswanathan Anand | 6 |
| 2 | Wesley So | 4½ |
| 3 | Anish Giri | 3 |
| 4 | Magnus Carlsen | 2½ |
| 5 | Shakhriyar Mamedyarov | 2½ |
| 6 | Wang Hao | 2 |
| 7 | Aryan Tari | 2 |
| 8 | Teimour Radjabov | 1½ |
| 9 | Maxime Vachier-Lagrave | 1½ |
| 10 | Veselin Topalov | 1 |
---
All games
Links