Carlsen is World Champion and the best player on the planet – and he wants to win every tournament, in which he starts. Even more so when playing on home turf in Norway.
Traditionally, in Norway a blitz tournament is played before the classical tournament, which is not quite classical because after a draw the organisers ask the players to play an Armageddon game. A win in the classical game yields 3 points, a draw in the classical game and a win in the Armageddon gives 1.5 points while a draw in the classical game and a loss in Armageddon yields 1 point.
According to the current FIDE blitz rankings, Carlsen is "only" number two behind Hikaru Nakamura while Wesley So is number three. And the World Champion's blitz rating of 2832 is worse than his classical rating (2864), which is hard to comprehend. In the live-list there are even three players ahead of the World Champion: Nakamura, Levon Aronian and Fabiano Caruana because Caruana and Aronian won a lot of points in the Rapid & Blitz in Warsaw.
However, Nakamura, Aronian and Caruana do not play in Stavanger, but So does.
The blitz tournament started well for Carlsen. He drew with Teimour Radjabov, won against Maxime Vachier-Lagrave, drew with Anish Giri, caught Aryan Tari's queen and also won against Wang Hao, who after his announced retirement for health reasons is back and plays in an official tournament.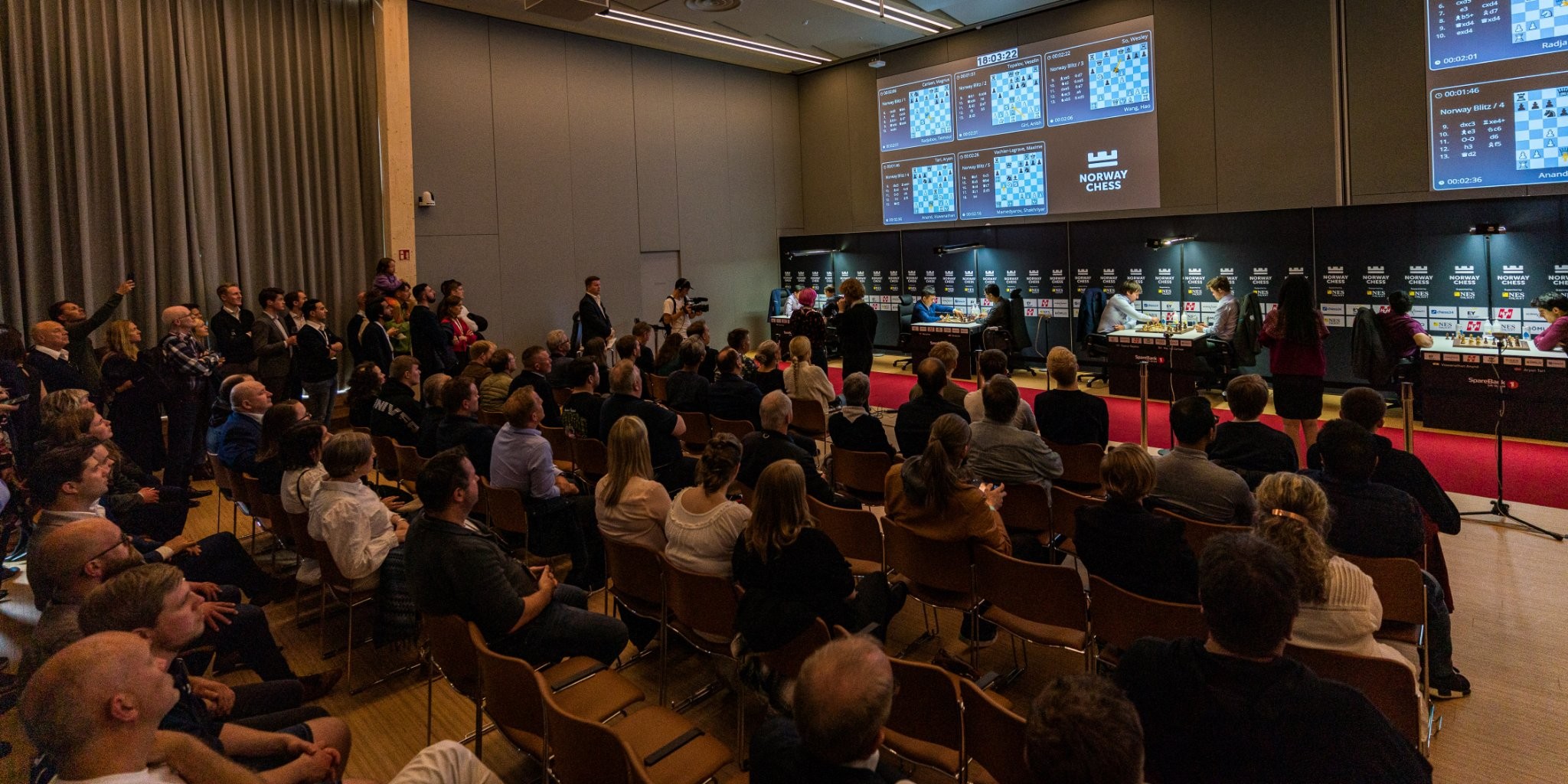 After five rounds Carsen led with four points ahead of Giri (3.5), Mamedyarov and So (3). In the sixth round the World Champion played against Wesley So and after opening the game with 1.a4 he blundered in the middlegame. So gladly accepted the gift.
So had now drawn level with Carlsen in the standings. Giri also came to four points after a draw against Shakhriyar Mamedyarov.
In round seven Carlsen had to play with Black against an old rival, former World Champion Vishy Anand. Carlsen opted for the Modern Defence and both players tried to win. Anand chose an aggressive setup, in which White castles queenside to mate the opponent on the kingside. But Carlsen defended well, which led to an exciting game, in which Anand made the penultimate mistake.
So now took the lead by winning against Topalov while Anand was on second place.
Now there were just two rounds left to play, in which Carlsen beat Topalov but couldn't get more than a draw against Mamedyarov. Thus, in the end Carlsen had to content himself with second placet while So won the tournament.
Karsten Müller came across an exciting endgame:
Final standings
Games
Links