Underdogs prevail
The starting times at the Meltwater Champions Chess Tour tend to favour European players. For Ding Liren and Praggnanandhaa, for example, their semifinal matches kicked off at midnight and 10 pm, respectively. Moreover, Pragg, aged 16, is currently taking exams at school — after knocking out Giri, at around 2 am Indian time, the youngster confessed that he must be in school at 8:45 in the morning! 
After taking on his 11th grade exams, Pragg will go back home to face one of the strongest players in the world in the first mini-match of the Chessable Masters finals. The prodigy from Chennai will play Ding Liren, who knocked out none other than Magnus Carlsen in semis. This is the first time the Chinese manages to take down Carlsen in a knockout stage of the Champions Chess Tour.
Tuesday's matches followed different patterns. While Carlsen and Ding played a series of tense games, Giri and Pragg exchanged tactical blows and missed chances throughout.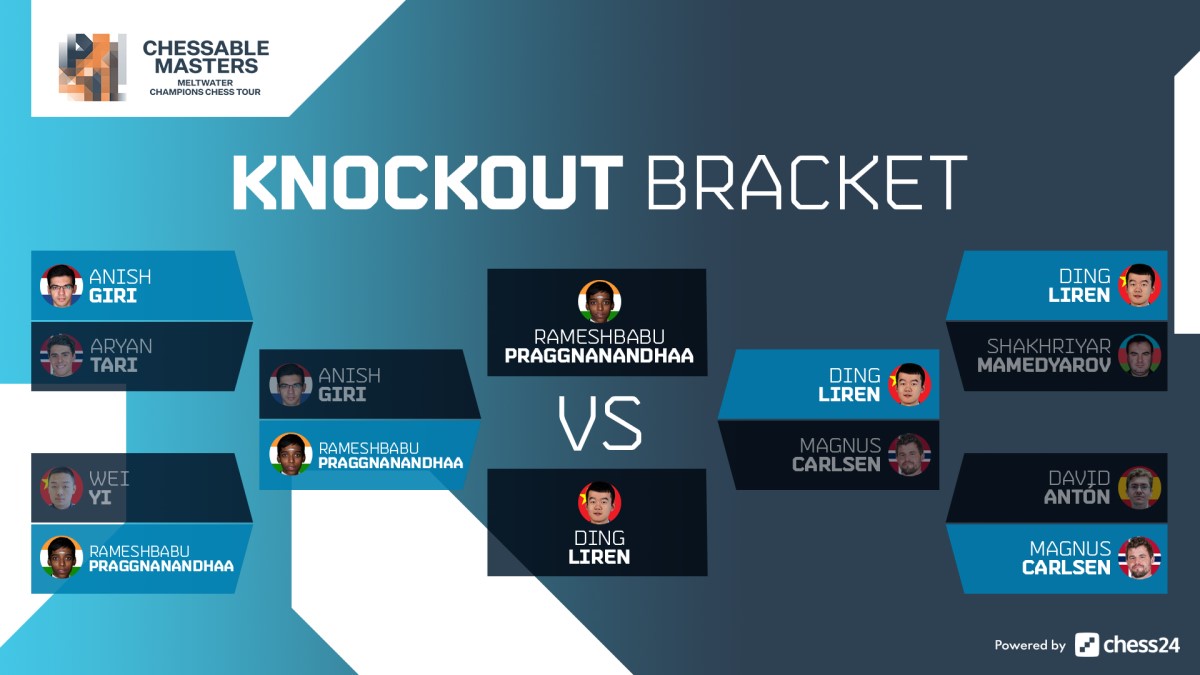 Praggnanandhaa* 2 – 2 Giri
After signing a draw in the one quiet game of the match, Pragg was the first to score a full point, as he sacrificed an exchange to create a devastating attack with the white pieces.
Giri could have bounced right back, though, as he was the first one to miss a major chance to checkmate his opponent in game 3.
The Dutchman has mate-in-11 here, starting with 32.Rxg7+ Rxg7 and 33.Rg6, most likely the move he missed in his calculations — the bishop will capture on h6 next. Giri went for 32.Rg6 instead, giving his opponent a chance to fight back.
White still had a clear edge, but missed more opportunities as the sharp struggle persisted. Pragg defended resourcefully, as he not only dealt with his opponent's threats but also got clear winning chances himself.
Black has two rooks for the queen, and here could have coordinated his major pieces with 57…Rc2, when White does not have enough time to bring back his pieces to defend the king.
It was Pragg's turn to miss his chance, though, as he went for 57…Rcg7 instead. The rollercoaster game was agreed drawn after 76 moves, with Giri visibly nonplussed once he saw what he had missed.
A great competitor, the Dutchman nonetheless managed to even the score in game 4, which took the match to tiebreaks. Pragg won the first 5-minute game with black, and agreed to a draw from a superior position in the next encounter to get a well-deserved spot in the finals.
Select an entry from the list to switch between games
Ding 2½ – 1½ Carlsen
The two highest-rated players in the world (in the official classical ranking) battled it out in a tense match. Two draws were followed by Carlsen failing to convert a slightly superior — yet complex — endgame with four rooks and bishops on the board.
As the tension built up, it was the world champion who erred first in the deciding game.
Carlsen's 16…Ba5 allowed 17.Nxd5, when after 17…exd5 18.Bxa5 Rc8 19.Rc3 White cannot grab the pawn on e3 due to a potential check with the bishop on h7.
Ding had an extra pawn, but he also had two bishops facing two knights in a closed structure. At some point, it seemed like the world champion was going to escape with a draw, but patient manoeuvring by the Chinese star allowed him to get the all-important full point in the end.
Select an entry from the list to switch between games
Links