There is no stopping the Tiger
Vishy Anand's three straight wins on Thursday were no fluke. The multiple world champion kicked off the second day of action with two more victories, beating Kirill Shevchenko and Levon Aronian in consecutive rounds to extend his winning streak to five games. A draw with white against Jan-Krzysztof Duda left the Indian two points ahead of his closest chaser with three rounds of rapid left to go.
Hungarian star Richard Rapport, one of three Candidates playing in Poland, replicated Anand's day-1 feat, as he scored three wins in a row to climb to sole second place. Anand and Rapport are set to face each other in round 9 of the rapid, before the eighteen rounds of blitz kick off on Sunday. A normal scoring system (1 point for a win, ½ point for a draw) will be used in the second phase of the tournament.
Wesley So and Jan-Krzysztof Duda are sharing third place on 7/12 points. The US grandmaster beat his Polish colleague in their round-5 direct confrontation.
Jan-Krzysztof Duda beat Radoslaw Wojtaszek with the black pieces in the all-Polish encounter | Photo: Lennart Ootes
After taking down Shevchenko with white to start the day on the right foot, Anand had the tough task of facing Aronian with the black pieces. Aronian, who was on a +1 score at that point, pushed his g-pawn on move 13 out of a Bishop's Opening (1.e4 e5 2.Bc4). Soon after, the man from Yerevan faltered decisively.
16.Nc4 was already an imprecision by White, as allowing the knight to grab the pawn on e4 with 16…Nxe4 — attacking the weak pawn on f2 — is a massive concession. That was not the losing mistake, though.
The only way to keep the fight going was with 17.Bxe4, while Aronian's 17.Nxb6 fails to the good-looking 17…Nxf2
Grabbing the knight is bad due to 18…Qh4+, while after 18.Qd2 Qxb6, capturing the knight is again taboo because of 19…Rxe1+.
Aronian went for 19.Rxe5, but 19…Nxg4+ 20.Kg2 Nxe5 fully consolidated Black's position. Four moves later, Anand "had the material and the compensation", as he had two extra pawns and was still attacking the hapless white king. Aronian resigned.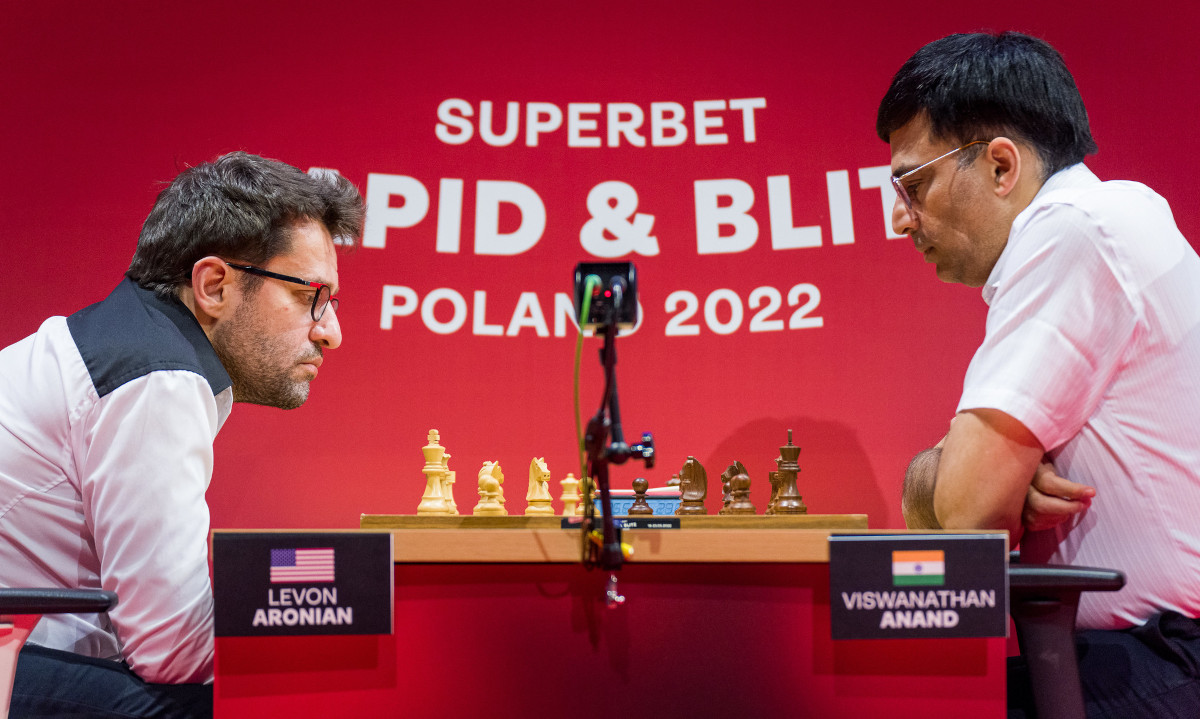 Levon Aronian facing Vishy Anand | Photo: Lennart Ootes
In round 4, Rapport grabbed his first win of the day by beating David Gavrilescu with the white pieces. The latter stepped in to replace Constantin Lupulescu. Born in 2003, the clear underdog has so far drawn Wojtaszek and So in Warsaw — a respectable performance given how heavily out-rated he is by his elite opponents.
Out of a French Defence, the ever-creative Rapport pushed his army on the kingside.
Here Gavrilescu needed to play 29…gxh6, the only move that somewhat deals with White's dangerous threats. The young Romanian instead activated his queen with 29…Qxc4, but soon realized he had erred, as Rapport continued pushing his pawns — 30.hxg7 Bxg7 31.Qc2 Nbd5 32.h6 Bh8. White was clearly in the driver's seat, but converting the advantage into a win was no trivial task.
Ten moves later, Rapport broke through decisively.
43.R1a7+ Kd6 44.Bxd5 Kxd5 45.Rxc8 Nxc8 46.Qb7+ and the king hunt began.
46…Kc4 47.Ra4+ Kd3 48.Qb3+ Ke2 49.Ra2 Qd5 50.Ba5+ and only here, with mate-in-two on the board, Gavrilescu resigned.
In less than a month, Rapport, who is also among the participants of the Norway Chess tournament (May 31 to June 10), will play the Candidates Tournament in Madrid. He will face, among others, Fabiano Caruana and Jan-Krzysztof Duda, who are playing in Warsaw as well.
Richard Rapport | Photo: Bryan Adams
---
Standings after round 6 (2 pts for a win, 1 pt for a draw)
---
All games
Links