Ignatz Von Kolisch (April 6, 1837 – April 30, 1889)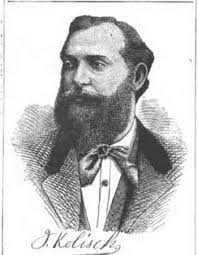 Some of the most regrettable chess stories are those of great players leaving the game at the peak of their powers. First, there was Paul Morphy, then, more than a century later, Robert Fischer. We could only lament that they denied us all of their incredible talents and left chess much poorer.
Very few probably know or remember that shortly after Morphy left, another brilliant player took his talents elsewhere. He was not of Morphy's stature, certainly, but all the same, it was a pity that the world saw no more of his chess. That man was Ignatz von Kolisch.
Kolisch was born in Pressburg, in what is now Bratislava, Slovakia, on April 6, 1837. He studied in Milan and Vienna. In St. Petersburg, he came to know Grigory Alexandrovich Kushelev-Bezborodkollya, with whom he would develop working relations that would influence his future significantly.
Kushelev-Bezborodkollya, otherwise known as Count Koucheloff, came from one of the wealthiest and most influential families in Russia. He was a writer, publisher, and philanthropist whose father, Count Alexander Gregorievich Kushelev-Bezborodko, was one of the founders of the first Russian chess club, the St. Petersburg Society of Chess Amateurs. With the count being a writer and artist and his father a chess enthusiast, the family's palatial home became a meeting ground of St. Petersburg's most prominent men of the game, the arts, literature, and science.
Among the chess masters who frequented the Count's residence were Alexander Petrov, Ilya Shumov, Sergey Urusov, and Carl Jaenisch. The painter Viktor Mikhaylovich Vasnetsov, the chemist Dmitri Mendeleev, and literary giants Ivan Turgenev and Leo Tolstoy were also known as visitors.
Kolisch became the count's secretary. It is not known how strong Kolisch already was at the time of his engagement, but, certainly, the opportunity to rub elbows with the leading Russian masters of the day hastened his development. They were not only strong practical players, but outstanding theoreticians as well. Alexander Petrov, Russia's best player for over half a century, produced the Petrov's Defense. Jaenisch, developed the Schliemann-Jaenisch Gambit of the Ruy Lopez. Together with Shumov, the three masters were invited to the first ever international tournament in London, 1851, but they arrived late.
Travelling with the count, Kolisch played and built his reputation wherever they went. In 1859, they were in Paris and Kolisch beat Daniel Harrwitz, the resident master of the Café de la Regence, 2-0. Harrwitz was one of Morphy's most celebrated opponents the previous year. Moving to England shortly after, Kolisch demolished Thomas Barnes, 12-1, a feat that surprised English spectators as Barnes had been Morphy's most difficult opponent.
The following year, 1860, Kolisch began to compete seriously, and his reputation must have well preceded him that he was immediately pitted in a match against Adolf Anderssen, no less. With Morphy retired, many saw Anderssen as the world's strongest player, just as he once was when he won London 1851. The match ended drawn at 5-5.
Kolisch would then encounter other well-known masters in similar, short matches. He beat Bernhard Horwitz, 3-1, and drew John Owen, 4-4.
Kolisch also won the Cambridge Congress of 1860. It was an eight-player, three-round knockout event where he swept all his opponents, including Charles Henry Stanley in the finals, 3-0. Stanley was the first-ever United States Champion, claiming the title in 1845.
The following year, 1861, Kolisch had a rematch with Adolf Anderssen, which he lost this time, 4-3. He would then meet another formidable player of the 1860s, Louie Paulsen, who would prove to be one of his toughest adversaries.
In the Bristol Congress of 1861, which adopted the format of the Cambridge Congress of 1860, Paulsen eliminated Kolisch in the first round, 2-1. Later in the year, they arranged a match for a race to ten games. Paulsen led early, 6-1, but Kolisch grimly fought back to trim the gap to 7-6. The match, however, had run longer than expected, and after thirty-two games it was given up as drawn.
In 1863, it so happened that Morphy returned to Europe, not for chess, but for a family matter. Kolisch took the opportunity and sent Morphy a letter, reminding him that two years before, Count Koucheloff had challenged him to a match against his protégé, with the count willing to back Kolisch at 500 pounds a side. Kolisch renewed the challenge.
As was the practice of the day, Kolisch's challenge was published in a French daily to bring the matter to the public's knowledge. Morphy asserted that he had given up the game. His reply, published in the same daily, was uncharacteristic of the gentleman he was known to be, citing Kolisch's dubious results against two men he had beaten lopsidedly. Perhaps, it spoke more of Morphy's unwillingness to return to chess than a dismissal of Kolisch and his talents. He wrote:
I could have believed at the time when hearing of your successes that you are superior to other players I had encountered in Europe, but since, as you are well aware, the result of your matches with Messrs. Anderssen and Paulsen had not been favorable to you, there is now no reason why I should make an exception in your case, having decided not again to engage in such matches, an infringement of my rules which I should be obliged to extend to others.
Denied a shot at the great master, Kolisch would wait until 1867 for his real moment of glory. Before that, however, he played two important matches in 1864. He beat Samuel Rosenthal, who would someday rise to be France's strongest player, 7-1. The other match, against Philip Hirschfeld, was drawn at 4-4.
In 1867, Paris held a tournament as host of that year's World Fair. The event featured a strong field that included Syzmon Winawer of Poland, Wilhelm Steinitz of Bohemia, Gustav Neumann of Prussia, Cecille De Vere of the United Kingdom, and Jules Arnous de Riviere and Rosenthal of France. Kolisch was said to have come to Paris only as a spectator, but was swayed to participate.
The tournament was especially significant. It was the first international event in France, and the first to use hour-glasses to time the players, who were to make ten moves in one hour. Draws were not counted, which meant that they were scored as double losses for the players. There were 13 participants and each player was to play 12 opponents twice.
Kolisch won the event on the strength of 18 wins, 2 losses, and 2 draws. He had swept most of his two-game matches, and only Winawer and Neumann earned a split with him, 1-1. He beat Steinitz and Rosenthal, 1-0 (the other game of the match being draws).
Paris (1867)
Paris, France; June 4, 1867 – July 11, 1867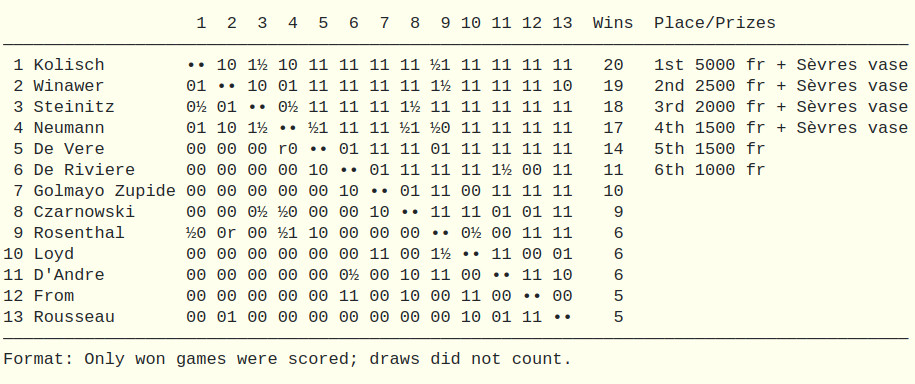 It was a monumental achievement for Kolisch who had begun serious competition only seven years before. Many considered him the world's best player following this victory. Chessmetrics gives him a rating of 2755 in August 1867, less than a month after the tournament. It is, indeed, the highest among all active players of that period.
Sadly, those incredible seven years were all that history would see of Kolisch. He retired from active competition after Paris 1867 to venture into banking. He was successful at it, and became a millionaire by 1880.
Chess, however, would not entirely lose Kolisch. With his new-found success, he became a generous patron who organized and donated funds to some of the most famous tournaments that became proving grounds for other great players. Among these were Baden-Baden 1870, and Vienna 1873 and 1882.
It speaks to Kolisch's genius that he was able to accomplish so much in the few years that he played. He was a pure player and a man of his era. His games, his only legacy, exemplify the
Romantic ideals of daring, aggression, and wonderful tactical execution. Chess, indeed, was all the richer in his short but brilliant career.
Games
Kolisch vs. Rosenthal – Kolisch steamrolls Rosenthal in true Romantic spirit.
Steinitz vs. Kolisch – Kolisch calmly defuses Steinitz attack out of the Romantic King's Gambit.
Neumann vs. Kolisch – Kolisch demonstrates that he can play positionally, and weaves a neat mating net.
Harrwitz vs. Kolisch – Kolisch weathers Harrwitz's attack and nails the point with fancy endgame play.
Kolisch vs. Paulsen – Kolisch plays a brilliant ending.
You can go over all five games in the replayer below. Feel free to try your own variations!
---
Master Class Vol.9: Paul Morphy
Learn about one of the greatest geniuses in the history of chess! Paul Morphy's career (1837-1884) lasted only a few years and yet he managed to defeat the best chess players of his time.
---
Links