The legendary grandmaster Yuri Averbakh, who had celebrated his centenary in February, passed away in Moscow.
Yuri Averbakh was the world's oldest living Grandmaster. In his prime, he was one of the strongest players in the USSR and the world, and in 1953 he took part in the legendary Candidates Tournament in Zurich. After his active career Averbakh worked as author, editor, theoretician, second and official. On February 8, he turned 100 years old.
Our deepest sympathy goes out to Yuri Lvovich's family and loved ones.
During a celebration of his 100th birthday — Yuri Averbakh | Photo: Sergey Yanovsky and Vladimir Barsky (Russian Chess Federation)
---
Yuri Averbakh turns 100
By André Schulz
Born on 8 February 1922 in Kaluga, a city in the southwest of Moscow, Yuri Averbakh has witnessed and has helped to shape a century of chess. He was born into a Jewish family – his father Lev Lazarevic, who worked as a forester at the time of his son's birth, had immigrated from Germany – the original family name was "Auerbach". His mother's Russian family came from the Kaluga area.
When Averbakh was three years old, the family moved to Moscow and lived at Bolshoi Afanasyesky Pereulok, which was only a few minutes' walk from Gogolevsky Boulevard, where the Central Chess Club took up residence in 1956.
Averbakh had a younger sister and, in Moscow, the four Averbakhs lived in a municipal flat which they had to share with three other families. There was no heating and no electric light in the flat. The four families shared a common kitchen with a simple stove on which to cook. In the mid-1930s, the flats in the multi-storey house received central heating. Since the father could not support the family with his income, the mother also had to go to work.
In 1935, the 2nd International Chess Tournament took place in Moscow. The tournament was a major event in the Russian capital and attracted a lot of attention. It was played in the Museum of Fine Arts. Averbakh could not visit the tournament, but he did attend a simul by Emanuel Lasker and Rudolf Spielmann at the House of Young Communists. A fellow student of Averbakh defeated Lasker in the simul. When Averbakh saw this, he felt the urge to get better at chess.
However, Averbakh's first encounter with chess and a strong chess player occurred several years earlier. His mother was a teacher in Kaluga at the same school where Vasily Panov's older sister Anna taught. The two women kept in touch and during a visit to Kaluga, a seven-year-old Averbakh met Panov and was amazed to see him playing chess with himself.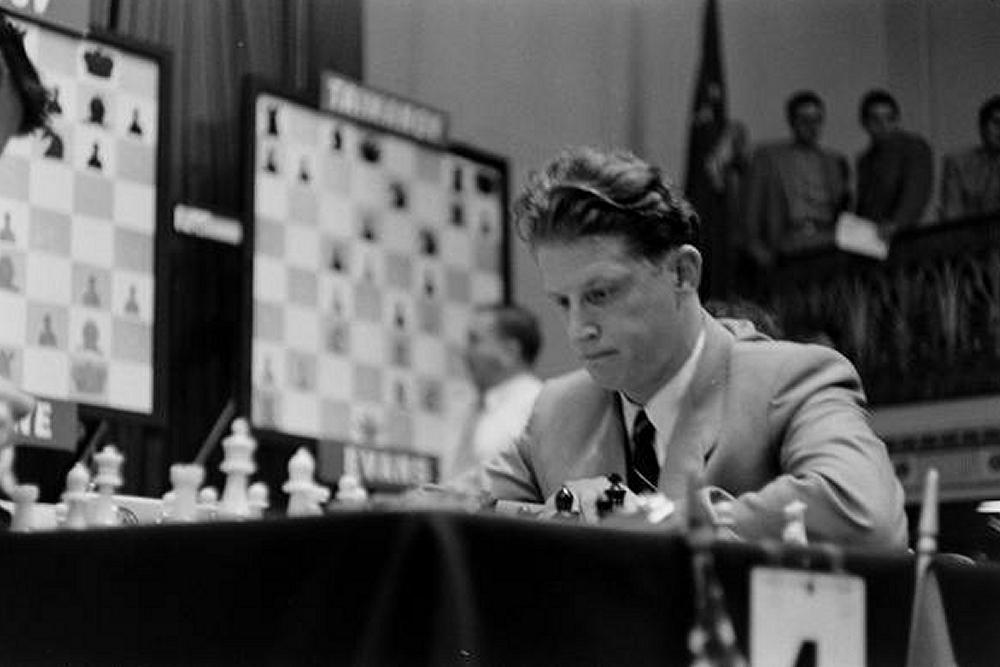 Averbakh at the match USA vs. USSR, New York City, 1954
---