Disbelief and excitement
It is early night in Havana. A red retro Chevrolet convertible is taking us back to the iconic Hotel Nacional. The ocean is on our right, the lively streets of the old town on the left, and I can't help thinking that it's a dream I will soon wake up from…
The wind is making my hair fly in all directions, as do my thoughts. Driving by a modern hotel building I can see a man with a fancy hat and suitcase checking in while sipping from what I identify as a mojito. Right in front of the hotel — a square and a monument honouring the Revolution around which youngsters kick some ball. "You can't take me down/ You can't break me down", the lyrics of a recently heard song whisper. Closing my eyes, I take a deep breath and realize that I finally feel alive again. Pandemic, bad results, war, disappointment in the humankind, and a deep feeling of disgust towards all I thought to know about myself and the world: I feel ready to let go of it all. Another deep breath and another song finds its way in my head, "But your heart is as black as night"…
Opening my eyes, I see a colonial style building which must have been inspiring once but stands to fall now. "It's like your chess", my brain throws at me. But no, not this time. I send satisfied flashes of a nice endgame I won some days ago back to the brain and promise myself to deal with its discipline later. Back to the sad building. It looks completely abandoned, but I suddenly notice some light and bright colors coming from one of its windows — it reads "Salsa Studio" on it. When was the last time I felt like dancing? With my bishops perhaps, just the other day.
I believe that the impact of the experiences we have depend mostly on our thoughts and expectations beforehand. Some hate a place, others fall in love with exactly the same one. I knew Havana would touch my heart long before I got the invitation to play in the tournament. How so? Well, as a keen traveler, while stuck at home during the pandemic I watched some travel vlogs from countries I had never been to before. Cuba was the one which stayed in my dreams and ignited my imagination. How strange are the ways of the universe! Almost two years later, back to my fully packed playing schedule: I received the invitation to participate in the Capablanca Memorial Premier group round-robin!
One could probably imagine the mix of disbelief and excitement I felt while reading that email. I knew I should do whatever it takes and make room for my dream to come true. Isn't precisely that what we often forget to do? It is never the right time: there are always safer, more logical choices. It has struck me recently that I don't "have" to do anything the way I don't want to, and there's nothing I could possibly owe morally to anyone but to stay true to myself. So Cuba it was, and I don't regret that decision even for a split second.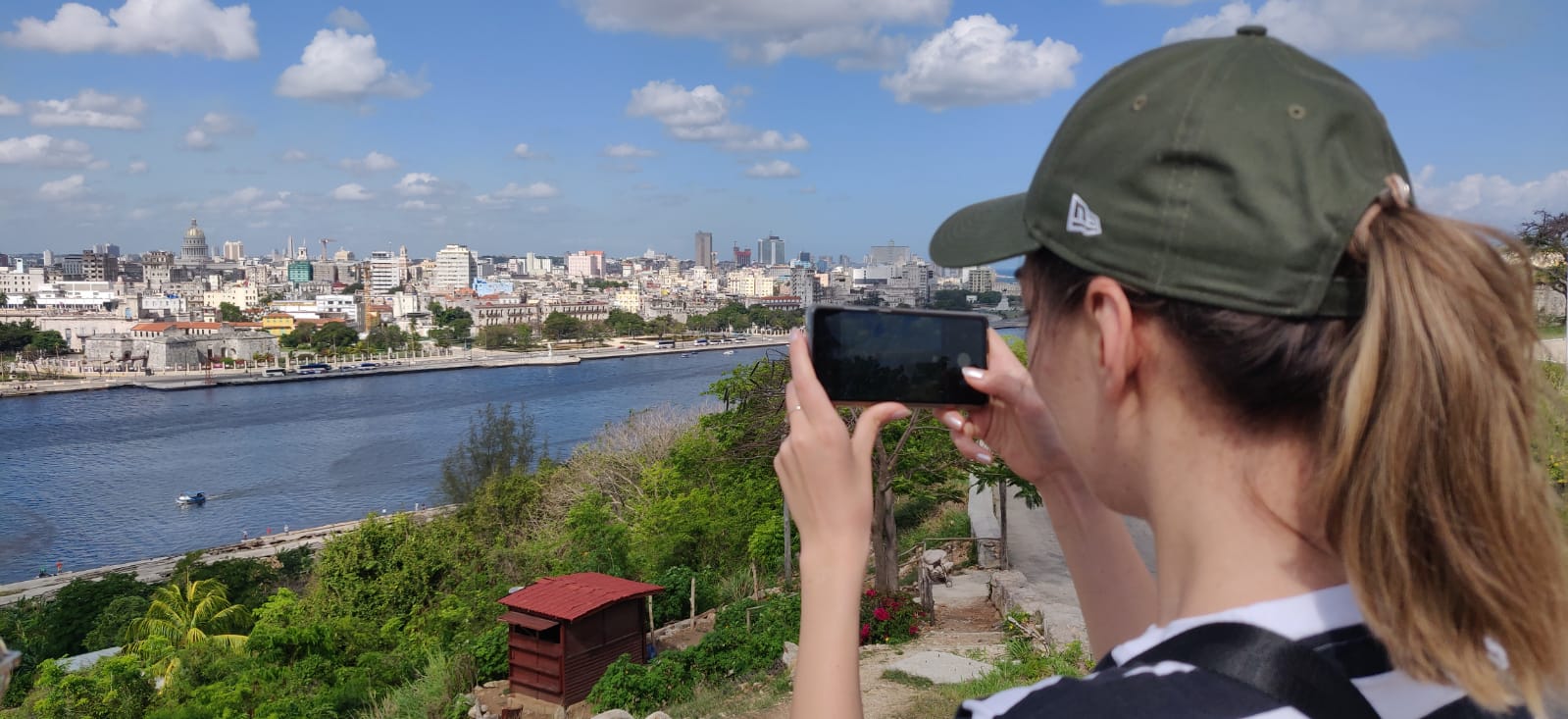 From the Morro Castle, a fortress guarding the entrance to the harbour (click to enlarge)
A memorable experience
I had a fantastic experience from the very first moments, when making arrangements to get the visa, meeting really nice and open people at the Cuban Embassy in Romania. Miss Deborah Ojeda, the Ambassador, welcomed me personally, and it made me feel that chess is very respected in Cuba. Jumping ahead, I'd also like to thank the Romanian Ambassador in Cuba, Theodora Magdalena Mircea, for taking the time to come by the tournament's venue and congratulate me on winning the trophy — it was a very pleasant and unexpected surprise! Going back to the days just before my trip, my great experience continued with a smooth trip to Havana, enjoying the atmosphere of the full-of-history Hotel Nacional, winning game after game, not without some luck, but always keeping calm. This was something very interesting. I felt fantastically at peace with myself here, which was such a long forgotten feeling.
The toughest game was the one I had in the fifth round, just before the free day. I played against WIM Miranda Llanes Yerisbel (who took the second place) with the black pieces and got an advantage after the opening. I misplayed it badly and found myself defending a really unpleasant endgame for more than a hundred moves. I managed to hold the draw, and it felt like nothing could stop me from winning the tournament then. My opponent must have also felt inspired after our game, as she won all her remaining encounters!
I had a lovely free day, where together with GM Surya Ganguly and WIM Oliwia Kiolbasa we visited some of the most interesting places in Havana. Energized and full of new impressions, I won the next 3 games to secure tournament victory with a round to go, scoring 7p out of 8. With a last round draw, I increased my Elo by 23 points with a 2593 performance rating.
The Capablanca Memorial tournament is a traditional one, which came this year to its 55th edition. However, the Premier group was organized as a women's event for the first time. I think it was a great idea and I hope it will be one to continue for many years to come, inspiring young girls in Cuba — and not only to take on chess as a profession.
The main, Elite group was won by 18-year-old US Grandmaster Hans Moke Niemann, who scored 7,5p/9 as well. I never personally met Hans, but seeing him here closely and following his chess in the past two years, I can't help but admire his resourcefulness and fantastic will to progress and win each game by all means — though never crossing the limit of fair play boundaries. Always wearing an elegant suit and a confident smile to the rounds, one could feel he's there to win and won't accept any other outcome.
[Replay all the games from the Premier group | Read ChessBase's tournament report]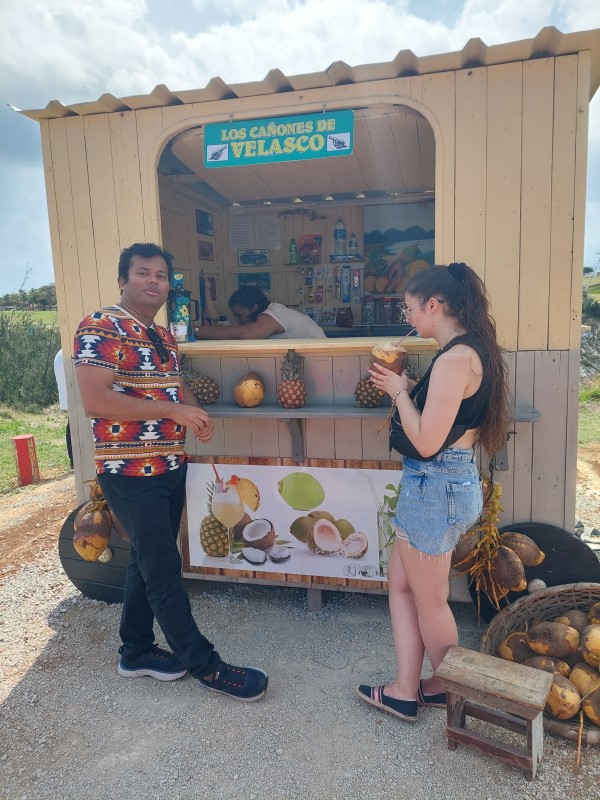 Sharing refreshments with Surya Ganguly and Oliwia Kolbasa
Numbness and fearlessness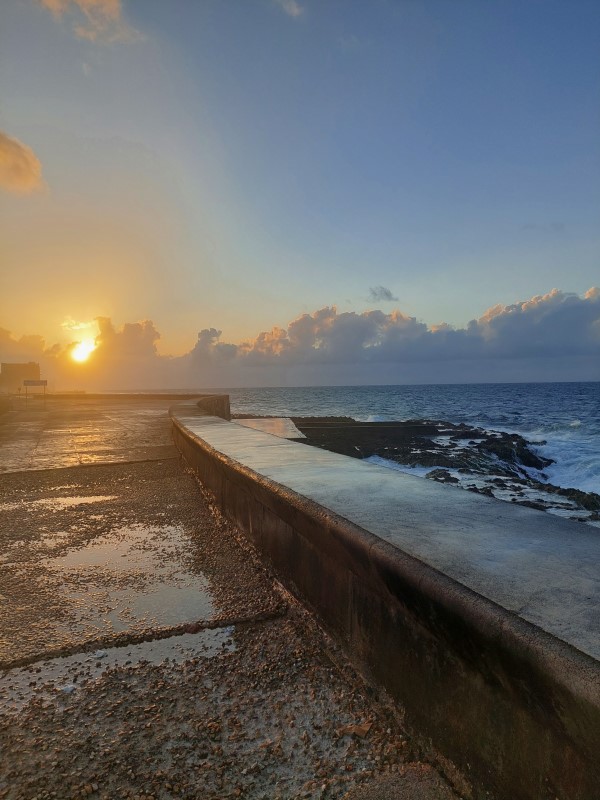 Was it the same for me? Not sure. The confident smile part, perhaps… But it was more about connecting to myself. What stroke me from the very first moments is that Cuba is completely different from all the countries I've been to before. It felt rather sad in the beginning, and the feeling actually persisted all the way. If one's a bit familiar with the countries' history, they might understand that life has never been easy for Cubans. Like a local told me while walking on the Malecon esplanade [pictured], there is almost nothing left from the indigenous traditions of Cubans before the Spanish colonization. Nowadays, Cuba has a taste of Spanish, African and Soviet influences, a rather unusual mix. What saddens me is that people living there still have a very difficult life. One day, I asked another local what is the best profession to have in Cuba. Jokingly, he said, "President". On a more serious note, he explained that the people who live the best are the ones in the military. To this day, almost all the economy is controlled by the state and if one joins the military, they get better housing, healthcare and other facilities.
It also seemed to me like the economy is heavily based on tourism. An average local can count on having a monthly income of about 2000-4000 CUP, which stands for about 20-40 euros. Knowing it beforehand, I expected to find very low prices for everything. How wrong I was! Walking around the city, I could never have a drink on a terrace for less than 350 CUP.
As for a nice meal in a restaurant, about 1500-2000. How could a local afford it? They can't, unless they have a relative working abroad sending money (which is itself very difficult), or if they are running a business targeting tourists.
I asked how comes there are no changes — after all, people must want a better life. It is not easy. Access to information used to be a luxury until a very few years ago. Back then, to get one hour of internet access, one would have to pay half of their monthly income. Things have changed in this regard, and an internet connection is not as unusual these days, but we are speaking about the last 3-5 years. Another thing which was quite shocking for me is that if one was to leave the country to work abroad, apparently they would lose their citizenship and all their wealth left in Cuba. As I understand, that has recently changed as well, but the overall picture is still the same. People who want a better life risk everything in order to leave the country and then never return, and that's the reason why Cuba sees a huge exodus of the population. It reminded me in a way about the country where I was born, Moldova…
My intention wasn't to focus on the hardships of Cubans. I was supposed to report on the tournament. But it feels unfair to just portray a well-organized chess festival…
How I see it, when a country endures and endures, it of course influences the people's way of being. When one must oppress their thoughts, feelings and needs for generations, they either become numb or fearless. I could feel certain numbness in the older generation, and I could feel the fearless lust for life in the younger one. I loved to see unmasked emotions, no matter their nature. It made me think that life is so much easier in many countries, but we don't appreciate it. The difference is that we numb ourselves consciously, without being forced. We read our news, stay connected to the social media 24/7, and forget what life is about.
Havana stole my heart with its wild, sad beauty, and I am grateful for it, since it reminded me what my life is about.
Street chess in Havana
Visiting Capablanca's grave
Links