Putin's naked aggression, prosecuted with genocidal acts, is driven by his perverse world view and warped dream of what Russia's place should be – an imperial power – with control of other sovereign states and a sphere of influence.
It must be opposed by everyone on all fronts, until there is behavioural change, which would almost certainly require regime change. What I'm saying here is that a peace treaty or some settlement with Ukraine wouldn't be the end of the struggle. Russia, as currently constituted and ruled, is a threat to our way of life, meaning its influence and power must be restrained and countered in all spheres. That, of course, includes chess.
Recent events in Russia are reminiscent of Stalin's times and if I was a Moldovan I wouldn't be too pleased to have heard the words at the Pro War rally at the Luzhniki Stadium in Moscow on 18th March, where the Russian singer Oleg Gazmanov was chanting: "Ukraine and Crimea, Belarus and Moldova, that is my country."
Much has been made in the UK of the perceived influence of Russian money in our politics and institutions, but FIDE has literally been awash with it for many years. To give you a stark example, the Board of the Russian Chess Federation includes Sergey Shoigu, the Russian Minister of Defence, and eight other sanctioned individuals, most notably Putin's spokesman Dmitri Peskov.
Another example: one of the chief organisers and supporters of the Candidates tournament at Yekaterinberg in 2020/21 was Andrei Simanovsky. The Moscow Times reported last year that Simanovsky regularly holds pro Putin parades at the HQ of his company Sima Land:
"The patriotic culture at Sima Land comes from the top down — mainly from its CEO and founder Andrei Simanovsky, according to news reports and the employee."

"Every workday begins with the Russian national anthem blasting from the office's speakers, with all employees required to stand and place their hand over their heart, the employee said. Prospective employees are asked questions about their patriotic attitudes during the interview process.

"The Sima Land corporate campus also regularly hosts events featuring the Kremlin's favorite spin doctor Vladimir Solovyov [more of whom later], United Russia deputies and pro-Putin celebrities, the employee said."
One of the principal sponsors of the world chess championship for many years is PhosAgro – you may remember their logo from the London world championship in 2018. This is a company that was literally pillaged by Putin and yet is listed on the London and New York Stock Exchanges. The Phosagro CEO Andrey Guryev is sanctioned – one of his last acts in chess was to hand the world championship trophy to Magnus in Dubai in December.
The Right Reaction
FIDE and the ECU have banned Russian and Belarusian teams from competing, and rightly so. Similarly Russian and Belarusian players cannot play in FIDE or ECU competitions unless they change their affiliation or, as they say in FIDE, their flag, and rightly so. An accelerated process has been set up by FIDE to facilitate this and many leading Russian players have already switched to FIDE, including those due to play the third and final leg of the FIDE Grand Prix in Berlin, which will be well under way by the time you read these pages.
The ECF intend to stay aligned with ECU policy for the moment. Also the ECU, as well as FIDE, likes to be aligned as far as is practicable with the IOC. A unified approach is essential.
In its statement of February 28th the IOC said:
"The Olympic Movement is united in its sense of fairness not to punish athletes for the decisions of their government if they are not actively participating in them. We are committed to fair competitions for everybody without any discrimination. Furthermore: IOC EB strongly urges International Sports Federations and organisers of sports events worldwide to do everything in their power to ensure that no athlete or sports official from Russia or Belarus be allowed to take part under the name of Russia or Belarus. Russian or Belarusian nationals, be it as individuals or teams, should be accepted only as neutral athletes or neutral teams. No national symbols, colours, flags or anthems should be displayed."
The exception has to be players, such as Sergey Karjakin, who openly support this brutal war and, in Karjakin's case, have acted as a cheerleader for it. The FIDE Council should be applauded for its decision to highlight Karjakin's behaviour to the FIDE Ethics Committee. My fear is that any adverse decision is likely to be appealed by Karjakin to the Court for Arbitration and Sport in Lausanne (CAS). These processes may not be concluded by the time the Candidates starts this June in Madrid.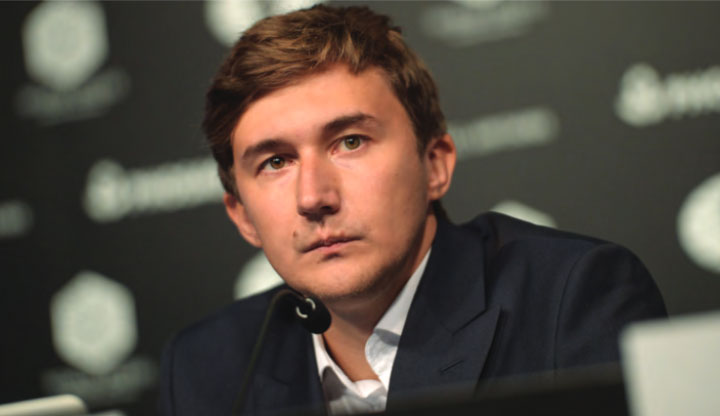 The 2022 FIDE Candidates is due to begin in mid-June in Madrid. One of the currently six qualified players is Sergey Karjakin, as runner-up from the 2021 FIDE World Cup in Sochi. Born in Simferopol in Crimea, Karjakin has been a public and vocal supporter of Putin's decision to invade Ukraine.
Karjakin's exclusion is something I would support. Can you imagine something like the episode which occurred in a recent gymnastics tournament where a Russian took to the podium sporting a large letter 'Z', the symbol of the Russian invasion used to mark many of their military assets on the battlefield? Similarly, I am delighted to see Anatoly Karpov, a long-time tool of the Russian regime, facing sanctions as a member of the Duma.
I fear that if the war in Ukraine continues for many months there will be increasing calls for a blanket ban of Russian and Belarusian players, akin to the Apartheid era. In its statement quoted above, the IOC did recommend such a sanction should be imposed.
I also applaud the FIDE Council's decision, and the speed at which it came, to withdraw from all sponsorship agreements with Russian government-owned companies, but this doesn't go far enough. It should extend to all Russian companies – anyone paying tax in Russia is funding the war effort. One of the sponsors of the current FIDE Grand Prix, admittedly run by Agon/WorldChess and not FIDE, is the Russian-owned cybersecurity company Kaspersky who are considered so toxic, western governments banned the use of their software.
Clean Hands for FIDE
This phrase, formerly the campaign slogan of Nigel Short's FIDE presidential election campaign in 2018, was unintentionally ironic the moment Nigel threw his hat in with Arkady Dvorkovich, it's just that not enough people actually realised it. As I said to every FIDE delegate I spoke to during the campaign, if you vote for Arkady Dvorkovich, you will get: "Russian competence, but also Russian dominance."
And so it came to pass. FIDE has benefited from Russian largesse. The list reads like a who's who of Russian state companies: PhosAgro, Norilsk Nickel, Gazprom, Rosatom, Russian Railways and there are more.
As Peter Heine Nielsen pointed out on Twitter on March 11th:
"FIDE still are sponsored by Phosagro and Norilsk Nickel. Neither have they returned the money to Gazprom, Rosatom, Russian Railways etc."
Under Dvorkovich, in many other ways FIDE has improved enormously. As a former Deputy Prime Minister of Russia, he is a very able man, an excellent administrator who was influential in the success of the World Cup in Russia in 2018. I also like him personally and although I am not at liberty to divulge details, I can assure readers he has acted, at some risk to himself, to assist friends of mine who were endangered. He has done an excellent job as FIDE President which is why it is a shame that he must go.
Dvorkovich cannot escape his past. How could he not have been in the room when the decision was made to invade and annex Crimea in 2014, as he was Deputy Prime Minister in Dmitry Medvedev's government from 21st May 2012 until 7th May 2018?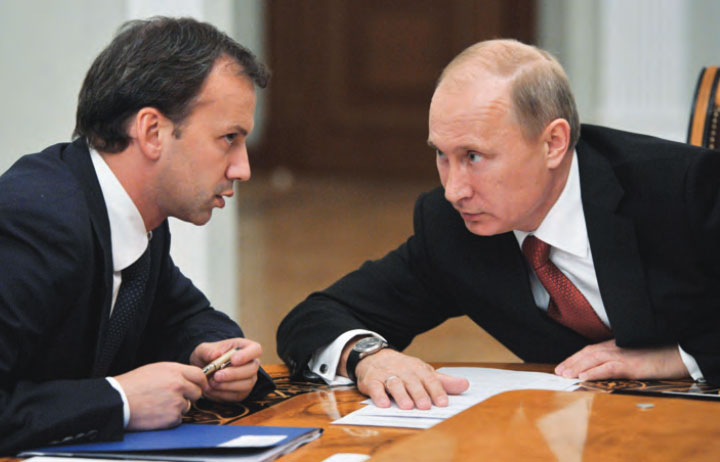 As Kingpin publisher Jon Manley captioned things so well on Twitter, Dvorkovich could almost be saying, "Carlsen wants to play at home, but I prefer a match in Russia" to which Putin chillingly replies, "By the time I've finished with Norway, you'll both have what you want."
He has held senior positions on the boards of Russian state companies and as I write this, he has just resigned, or been forced out – who knows – from the Board of Skolkovo, a technology park outside Moscow.
We should not forget either Dvorkovich's appalling appearance on BBC HARDtalk in August 2018 when he denied any Russian involvement in the Salisbury Novichok poisoning and attempted murder of Sergei Skripal in March 2018. This is was what motivated me to continue my involvement in the FIDE election campaign.
His position as FIDE President is just incompatible with not only his past, but also his present situation. Indeed, I fear his unsuccessful attempts to both 'walk the walk and talk the talk' have greatly endangered him.
In an article published a few days ago on the Mother Jones website, Dvorkovich appeared conciliatory and even uttered the word 'war', which is illegal in Russia and potentially punishable with 15 years' imprisonment. Putin insists that Russia's invasion be referred to as a 'special military operation'. Dvorkovich expressed sympathy for Ukrainian child victims of the war. However, the next day an interview with him appeared on the Skolkovo website which was so full of nationalistic fervour, it could have come straight out of the Putin bunker.
The way things are in Russia, one can never rely on the printed word, so I'm not entirely sure that this statement can be attributed to him, but what happened over the following few days was absolutely chilling.
In Gazeta.ru, one of the leading officially sanctioned media outlets, news of Dvorkovich's ousting was front page news. Then in a scene reminiscent of Stalin's purges of 1937 – indeed they were referenced – a horror show of a discussion was stage-managed on the main channel Rossiya 1 by long-time host Vladimir Solovyov.
April 2022 On the show was one of the Kremlin's attack dogs, Alexander Heinstein, Deputy Secretary of the General Council of the United Russia party. Heinstein was described to me as something akin to a cross between Nigel Farage and Piers Morgan, but he is far more sinister than that. Heinstein's words were translated by the excellent chess-news.ru:
"Citizen Dvorkovich allowed himself to write things that not just the former Deputy Prime Minister and former Assistant to the President cannot write, but just anyone who respects his country and treats it as his own, not as 'this' country does not can afford it."
Heinstein continued
"This week, the President spoke about national traitors and the fifth column. This is the fifth column, these national traitors – people for whom the interests of the country are a commodity for which you can buy, who try to secure a warm place abroad in advance, in the West, or maybe dream of new orders. These people are showing themselves more and more active! I predict that citizen Dvorkovich is not the last in this row. And this national treason, this fifth column must be dealt with!"
Any observer would have to conclude that Dvorkovich could become a victim of what is a developing power struggle in Russia. I fervently hope he comes to no harm.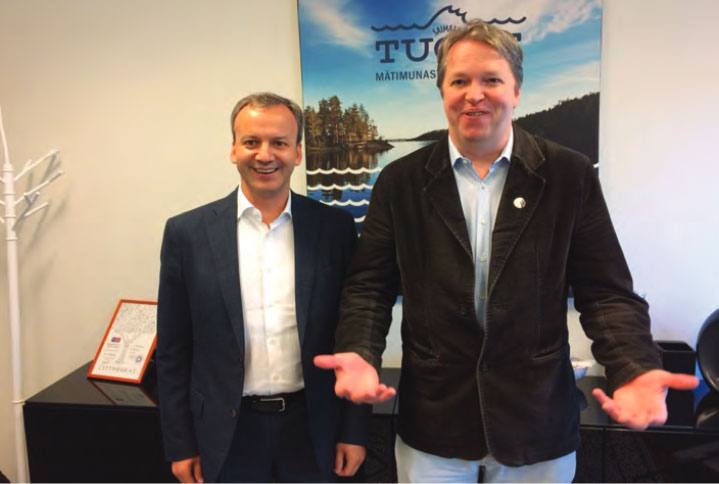 In happier times we find FIDE President Arkady Dvorkovich clearly delighted with one of FIDE Vice-President Nigel Short's classic witticisms. Nigel has helped to ensure the 2022 Olympiad has been taken away from Russia, but Dvorkovich's fate is much less clear – in both Russia and FIDE.
How can we help?
I've already had several offers of long-term accommodation for Ukrainian chess players who have become refugees and if any readers would like to open up their homes, I'm in touch with Ukrainian chess circles and would love to help match people. We should extend the hand of friendship and assistance to any Ukrainian player who makes it over here with free entry to any competition and membership of chess clubs, as well as more substantive assistance.
I am trying to raise money to an organise a UK vs Ukraine solidarity match over the Internet that will enable some of the Ukrainian Grandmasters to get some financial support as they've had to put their careers on hold.
Collateral damage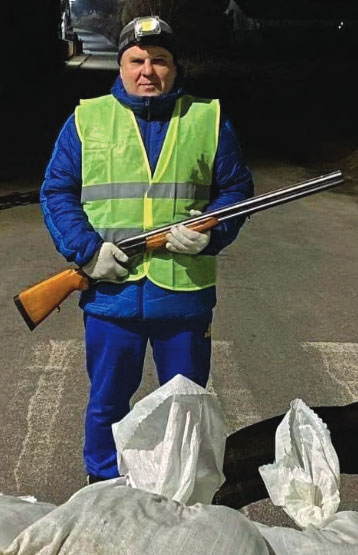 Without belittling in any way the colossal suffering of the Ukrainian people amid the senseless destruction wrought on their country, in the chess world the people who will suffer the most from these terrible events are the Russian players who oppose the war, as well as the Ukrainian chess fraternity.
Many chess players have joined the Ukrainian army or Territorial Defence Force and these include my friend and occasional adversary in team competition GM Olexander Sulypa, the captain of the Ukrainian team who has been pictured armed and manning a checkpoint.
Not the normal day job of a professional chess player, but GM Olexander Sulypa was but one of hundreds of thousands of Ukrainians who have volunteered to help defend their country against the Russian army.
The Ukrainian Chess Federation and the Chess Federation of the Zaporozhye Region have sadly had to report the death of Ukrainian arbiter and trainer Oleksiy Druzhynets, who died after being seriously wounded by Russian forces.
It was clear that Alexander Grischuk was greatly affected by events and not really able to play to his best at the recent Grand Prix second leg at Belgrade. Grischuk gave an excellent post-game interview on the crisis and its origins, despite the best efforts of the host Milan Dinic to ruin it.
About CHESS Magazine
The above feature is reproduced from Chess Magazine April/2022, with kind permission.
CHESS Magazine was established in 1935 by B.H. Wood who ran it for over fifty years. It is published each month by the London Chess Centre and is edited by IM Richard Palliser and Matt Read.
The Executive Editor is Malcolm Pein, who organises the London Chess Classic.
CHESS is mailed to subscribers in over 50 countries. You can subscribe from Europe and Asia at a specially discounted rate for first timers, or subscribe from North America.