The Monty Python chess chronicle
[Note that Jon Speelman also looks at the content of the article in video format, here embedded at the end of the article.]
Last time, I looked at some games in which a player (in fact White in all the examples) had forked his own pieces, putting a second minor piece en prise on the prongs of an enemy pawn.
I entitled it Bring your own bottle and fork and was inordinately pleased with this. But when I tried it on my son Lawrence, he wondered why I hadn't instead used the idea of a dirty fork as in a famous Monty Python sketch.
---
---
This excellent idea set me thinking and I looked for some more games which could, without being entirely implausible, be linked to Monty Python sketches. Here I've added some Dead parrots (watch the sketch), Four Yorkshiremen (watch the sketch), and some instances of Silly walks (watch the sketch).
Dirty forks
Here, famously, Karpov played 11…Bd6 and resigned at once after Christiansen's reply. It was a knockout tournament of two-game matches, and Karpov recovered to win the second game and then eliminate Christiansen in the rapidplay playoff.
11…Bd6?? 12.Qd1! 1–0
Select an entry from the list to switch between games
Dead parrots
In chess terms, these are presumably players who have parroted White's moves as Black but come a cropper. I know of three games of four moves (two are very similar) in which Black mimics White's moves for the first three and then White delivers mate in 1. Can you find them? And indeed, are there others? [Find one example in the replayer below].
More seriously, there are a number of opening lines (living parrots) in which Black maintains symmetry — or sometimes it's re-established after slight differences earlier.
1.Nf3 Nf6 2.g3 g6 3.Bg2 Bg7 4.c4 c6 5.d4 d5 6.cxd5 cxd5 A Symmetrical Grünfeld 
And there ave been many games over the years in which maintaining symmetry has backfired. The one I've chosen is from Bent Larsen's Selected games of chess 1948-69, which was one of the books on the shelf above my bed when I was a kid.
Select an entry from the list to switch between games
Four Yorkshiremen
Okay, there's no convincing reason why the four white pawns should be Yorkshiremen, but I suppose they could be holding white roses.
White to play and win.
The Ministry of Silly Walks
These obviously should involve strange routes for pieces. A knight's tour is a reasonable instance, and I've stretched a point to add two games where there was a surprising short hop and an instance of corresponding squares in which the black king has to walk very carefully to fend off his rival.
I was going to play out a Knight's Tour in ChessBase, but there's really no point unless you can number the squares. You can find instances in various places, including the Wikipedia page.
More on the Knight's Tour: Using the Knight's Tour to impress | Euler and the Knight's Tour
What did Nils Grandelius play here with black to take down Daniil Dubov at this year's Tata Steel Masters tournament? Find this game in full  in the replayer below — plus a marvellous show of calculation ability by Boris Gelfand.
Select an entry from the list to switch between games
Corresponding squares
This corresponding square problem depends on a complex linkage between the white and black sectors. The diagram appears here and the solution in the replayer below.
Black to play and draw.
You are welcome to try your own variations on the diagram above. The computer will play the white pieces, so you will soon find out if you're on the right track!
For the solution I printed the diagram, put numbers in by hand and then scanned to a jpeg. I wonder if anybody knows of software I could have used to put the numbers in on the diagram itself? I spent some time looking without success.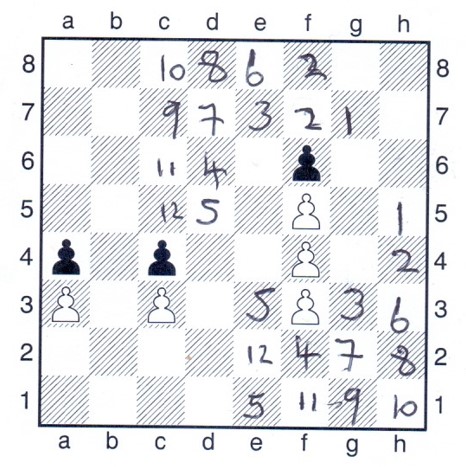 To make this you start with the two principal zugzwangs (h5 v g7 and e3 v d5), mark the path between them (which has to be the same length for both players for this to work), and then interpolate. As you can see, with Kh1 v Kd7, 1…Kc8 is the only defence.
---
---

Master Class Vol.2: Mihail Tal
On this DVD Dorian Rogozenco, Mihail Marin, Oliver Reeh and Karsten Müller present the 8. World Chess Champion in video lessons: his openings, his understanding of chess strategy, his artful endgame play, and finally his immortal combinations.
---
Links