Motlyev edges Donchenko and Pultinevicius
Rating favourite Alexander Motylev won the European Rapid Championship in Katowice after scoring 9 wins, 1 draw and 1 loss at the two-day event. The one loss suffered by Motylev, aged 42, came in round 5, when he was defeated by Polish grandmaster Michal Krasenkow, who is still going strong at 58.
A crucial game was played in round 9, when Motylev inflicted Alexander Donchenko's only loss of the tournament. After move 20, Donchenko suddenly found himself confronted with a position that was difficult to handle.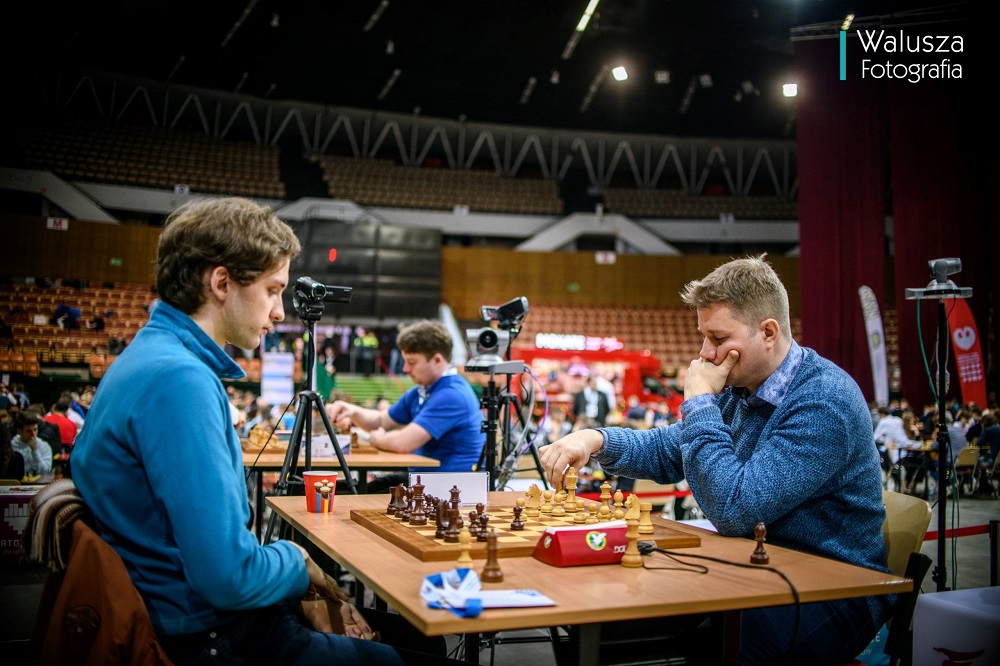 Donchenko and Motylev during their crucial round-9 confrontation
European Rapid Chess Championship 2021 has just concluded!
After 11 played rounds 3 players tied for the top scoring 9.5 points each. Tiebreaks criteria decided the Champion and the medalists:
🏆Motylev Alexander🇷🇺
🥈Donchenko Alexander🇩🇪
🥉Pultinevicius Paulius🇱🇹

Congrats!👏 pic.twitter.com/EEJdGAP8cU

— European Chess Union (@ECUonline) December 19, 2021
Final standings after 11 rounds
| | | | | | |
| --- | --- | --- | --- | --- | --- |
| 1 | GM | Motylev Alexander | 2703 | 9,5 | 0,0 |
| 2 | GM | Donchenko Alexander | 2535 | 9,5 | 0,0 |
| 3 | GM | Pultinevicius Paulius | 2536 | 9,5 | 0,0 |
| 4 | GM | Krasenkow Michal | 2430 | 9,0 | 0,0 |
| 5 | IM | Brodowski Piotr | 2414 | 9,0 | 0,0 |
| 6 | IM | Janik Igor | 2462 | 9,0 | 0,0 |
| 7 | GM | Bjerre Jonas Buhl | 2330 | 9,0 | 0,0 |
| 8 | IM | Keinanen Toivo | 2341 | 8,5 | 0,0 |
| 9 | GM | Balog Imre | 2629 | 8,5 | 0,0 |
| 10 | GM | Bernadskiy Vitaliy | 2616 | 8,5 | 0,0 |
| 11 | GM | Fridman Daniel | 2542 | 8,5 | 0,0 |
| 12 | GM | Stefansson Hannes | 2513 | 8,5 | 0,0 |
| 13 | GM | Kovalenko Igor | 2649 | 8,5 | 0,0 |
| 14 |   | Kyc Jerzy | 2308 | 8,5 | 0,0 |
| 15 | IM | Kosakowski Jakub | 2304 | 8,5 | 0,0 |
| 16 |   | Kozak Antoni | 2308 | 8,5 | 0,0 |
| 17 | FM | Mis Mieszko | 2237 | 8,5 | 0,0 |
| 18 | FM | Fus Jakub | 2252 | 8,5 | 0,0 |
| 19 | GM | Grabarczyk Miroslaw | 2249 | 8,5 | 0,0 |
| 20 | FM | Semjonovs Ilja | 2165 | 8,5 | 0,0 |
All available games
Links