Nightmarish
---
Full expert analysis of the game will be published shortly on our news site. Game 9 will be annotated by Filipino-born American grandmaster Wesley So!
---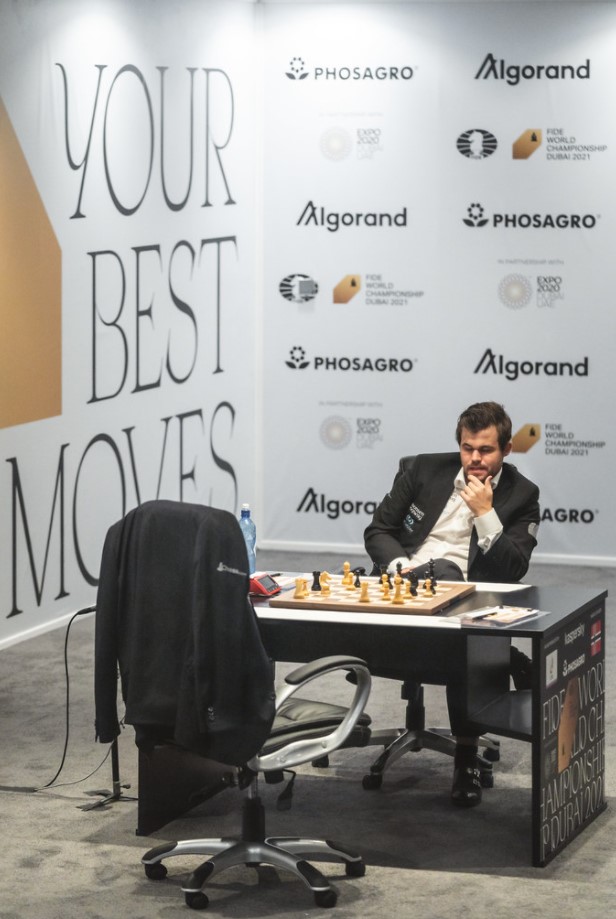 Much of what happened during the first half of the match in Dubai (until Saturday) might be described as somewhat predictable — an excellently prepared challenger was keeping things under control against the experienced defending champion, who incidentally is one of the strongest chess players in history.
Even on Friday, when Magnus Carlsen won a marathon game, it seemed like things were following a relatively normal path. A loss in a long endgame after surviving a tough position in the middlegame is nothing to be extremely tormented about — again, especially while facing the world champion. However, that turned out to be the beginning of the end for Ian Nepomniachtchi.
The way the challenger has all but lost any chances to win the match is what is more disconcerting. After losing game 6, he did not get much with white on Saturday, and blundered away two games in a row to find himself 3 points down with 5 games to go in the match. The extremely unexpected blunder from game 9 points to some psychological factor having to do with the sudden collapse.
Well this is getting anticlimactic as the champ is now +3 with just 5 games left but here are the updated match win chances for #CarlsenNepo (our model still has Nepo winning one time out of every 1600 but…) pic.twitter.com/rrmHAVO6nr

— Chess by the Numbers (@ChessNumbers) December 7, 2021
After losing game 8, it already seemed like Nepo only stood a remote shot at winning the match. Understandably, as Carlsen himself pointed out, the Russian decided to make significant changes after the rest day, not only regarding his opening preparation but also at a more superficial level — Nepo arrived in the playing hall with a new haircut, after having worn a man-bun for the last few years. Moreover, the Russian was joined by former World Championship challenger Sergey Karjakin, a top-notch aide without a doubt.
A sharp fight resulted from Nepo playing 1.c4, and Carlsen going for a trying line with 3…d4, when he could have easily taken a safer route. The position was simplified after Nepo failed to find the most precise continuation on move 15 (according to the engines, of course).
In hindsight, however, the first 26 moves were only the prelude to a deciding moment in World Championship history, as this is the kind of game that will be mostly remembered for a single move — a 'simple' pawn push…
27.c5 artlessly gives up a piece. Of course Nepo is capable of calculating that after 27…c6 there is no way to defend the bishop on b7, which is trapped near the corner of the board. The piece was trapped via 28.f3 Nh6 29.Re4 Ra7 30.Rb4 Rb8
Nothing short of a miracle would save Nepo, as after his 27th move some commentators even thought the Russian would immediately resign. And, in fact, there was no miracle: Carlsen had no trouble converting his material advantage into a 39-move win, his third of the match.
A single-word tweet was shared by Anish Giri and by the member of Nepo's team who had been flown into Dubai to deal with the crisis…
Already in his fifth match for the world crown, Carlsen was dumbfounded.
After playing 27.c5 and seeing his opponent respond with the logical refutation, Nepo left the playing hall for almost 20 minutes. The world champion could not believe his eyes — he knew that his opponent had hung a piece, but perhaps felt somewhat disappointed (at least for a while) to all but secure a fifth consecutive success in a World Championship match after seeing his challenger, an extremely strong player by any standard, blundering egregiously.
In the post-game press conference, Nepo was still shell-shocked, as he confessed:
I could not imagine there is a way to blunder in that position.
While Carlsen was the favourite going into the match, Nepo's showing at the Candidates Tournament and his perceived change of attitude towards the game indicated that we were about to witness a fighting confrontation, similar to the ones seen in 2016 and 2018. However, we saw a somewhat anticlimactic abrupt collapse — a good reminder of just how tough it is to get good results consistently at the very top of the chess elite.
Ian Nepomniachtchi and Magnus Carlsen | Photo: Niki Riga
The match is not over yet, and even though it is almost statistically certain that Carlsen will keep his crown for one more cycle, we can still hope to see a few more fighting games. Perhaps this is a good chance for Nepo to loosen up and show the sharpest lines from his theoretical preparation?
Fans will be grateful if the Russian employs this approach, although we cannot blame him if he simply keeps things short and focuses on moving on after such devastating pair of blunders.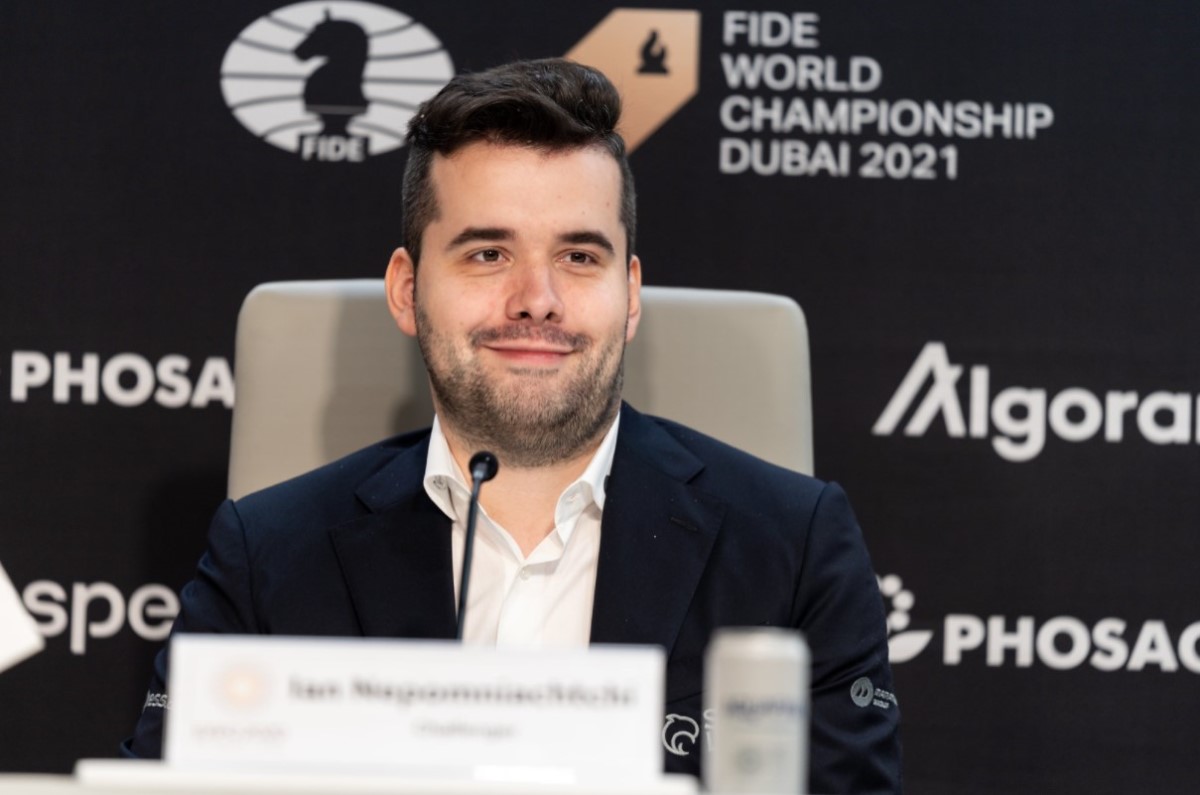 Nepo has remarkably kept his composure during the press conferences | Photo: Niki Riga
All games
Links