Damage limitation
---
Full expert analysis of the game will be published shortly on our news site. Game 9 will be annotated by Filipino-born American grandmaster Wesley So!
---
A 41-move draw with little to no excitement was the result of game 10 at the World Championship match in Dubai. Ian Nepomniachtchi, down 3 points on the scoreboard, shied away from going all-in with the black pieces after painful blunders in back-to-back games. He now needs to score 3½ points in the remaining 4 games to take the match to rapid and blitz playoffs.
After the short day at the office, Magnus Carlsen described his rival's approach as one focused on "damage limitation". Instead of playing the Sicilian or an aggressive setup in the Caro-Kann, Nepo once again chose the Petroff Defence. The Russian, who was clearly 'tilted' in the previous two encounters, decided either to eliminate any ambitions he had in the match or prepare something special for the games following Thursday's rest day.
The contenders went through the motions until move 41, as they could not agree to a draw before the first time control. A completely symmetrical pawn structure was left on the board, with a king and a knight per side fully unable to create any problems for the opponent.
Draw.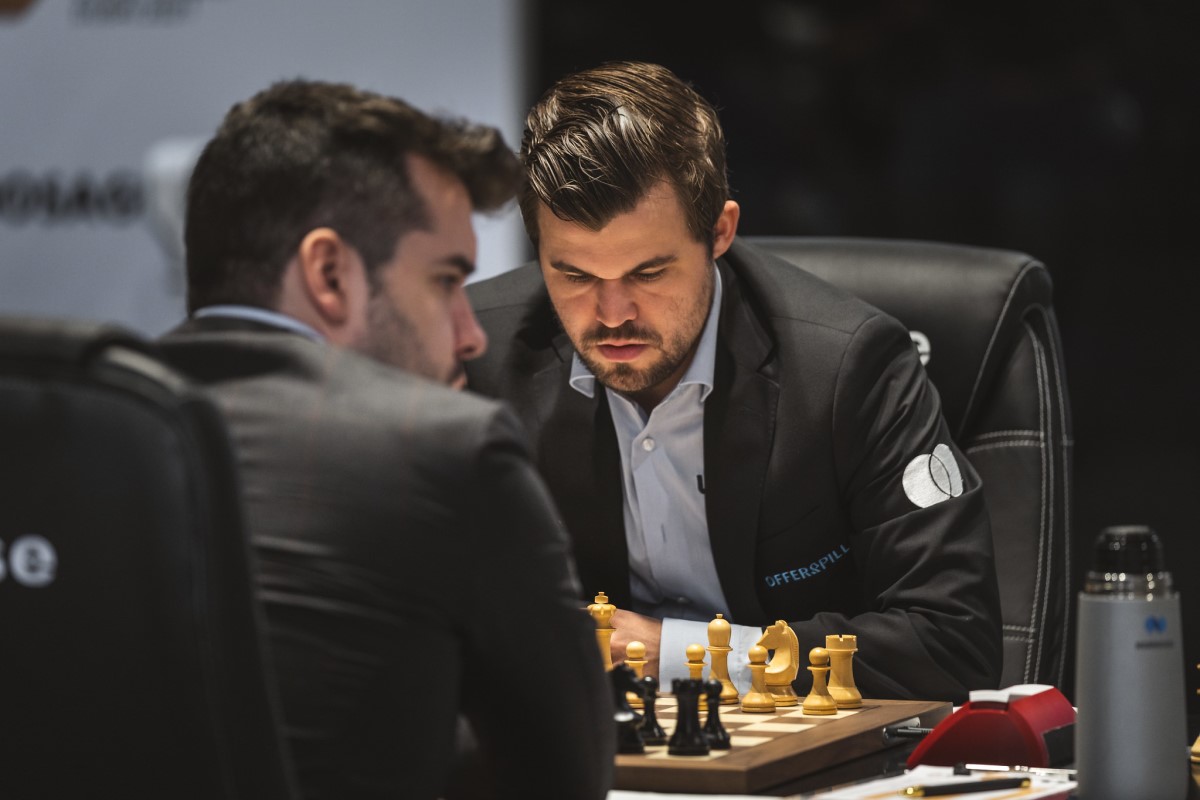 World champion Magnus Carlsen | Photo: Niki Riga
The match is practically over, and apparently we already saw the most exciting part of the much-anticipated confrontation up until game 9. It is time to assess what went on in Dubai, and we will surely see a number of interviews and analyses by world-class players and commentators once the match is over.
For now, we have an excellent clip produced by ChessBase India's Sagar Shah, who interviewed multiple world champion Vishy Anand. The 'Tiger from Madras' has all the experience in the world about this subject, and referred to Nepo's collapse using examples from his own World Championship matches:
Basically, it was a complete loss of control. When you have a disastrous game, logically, you will say 'losing two games is not gonna make me feel better, what has happened has happened, let us move on'. That's what you're supposed to do, that's what most people think will happen. But under the strain and pressure, what very often unfortunately happens is that you make the problem even worse for yourself — you lose one more, in this case it was two more.

And somehow you can't stop because then you go back home and you know you should be trying to find some hope, but you don't believe in it, so then you get angry.

I felt something similar in Chennai. I lost games 5 and 6, and luckily I made two draws. You know, what to do? Not rushing anything. But then I managed to prepare something nice, I got an advantage in game 9, and unfortunately I lost it. […] At least, games 9 and 10 I played at some level. The problem is when you make a move like [Nepo's] 27…c5, you don't even know what to tell yourself any more.
---
---
The champion and the challenger will get a rest day on Thursday. The whole match could come to an end on Friday, as a win for Carlsen would secure him overall victory with a score of 7½ points.
All games
Links