In the previous birthday articles I described how:
Today, slightly asynchronously, I will describe another great adventure we had with our chess playing program, a couple of years earlier, in the Gulf state of Bahrain. It is a lengthy description with many pictures (so many memories – I just couldn't resist), but it will hopefully be of interest to readers, some of whom were toddlers when the event took place.
Brains in Bahrain
In May 2001 I was invited to Manama, the capital of Bahrain, to plan a man vs computer match, by Yousuf Ahmed Al Shirawi, a highly respected former minister in the Bahraini cabinet, who was the initiator and driving force behind the plan. Al Shirawi was an intellectually vigorous 73-year-old, with a wry sense of humour. Also an enthusiastic chess player who went to his chess club four times a week to play for a few hours.
I soon found myself seeking Yousuf's company – he soon told me to address him by his first name, and fondly called me "Freddy". We had numerous very enlightening conversations. I picked up more about mediaeval Arabic culture from him than from any other source. For instance, he told me about a short period in Arab history, in the 8th century, where a number of important things happened. First of all chess was introduced. Secondly Arab scientists calculated the circumference of the earth by measuring the exact length of a southward journey that caused the north star Polaris to sink by three degrees. And finally the most profound development, the introduction of the zero in the mathematical system (picked up from Indian astronomers at the time). Oh yes, one more thing: the Arab seafarers invented tacking against the wind, Yousuf told me.
This is a low-res interview I did in 2002 with Yousuf Al Shirawi. It will give you and impression what he was like, and what you could learn from him. Sadly Yousuf passed in 2004.
World Champion Vladmir Kramnik and Yousuf Ahmed Al Shirawi in Bahrain
The match we planned was to be fought between reigning World Champion Vladimir Kramnik and Deep Fritz. It was to be staged in Bahrain at the end of the year, but was delayed by a year due to the 9/11 attack. It was finally held in October 2002. 
The games were played in the Mind Sports Center in Manama
Here's a short summary of how it went: The first game was a draw. Then Kramnik used anti-computer tactics – play conservatively and aim for a long-term advantage which the computer does not understand. This led to victory in games two and three. Game four was a draw, and in game five Kramnik blundered and lost. Game six was quite spectacular. Kramnik sacrificed a piece to launch an attack, but Fritz found a stubborn defence and Kramnik resigned. The last two games were drawn. Final score:
Media reports on the match
On the right you see a small part of the ChessBase.com coverage at the time, archived in the Wayback Machine (click to enlarge). Here are the main round reports for you to peruse:
Game 1: The Berlin Wall Holds
Game 2: Kramnik Squeezes the Machine to Win
Game 3: Kramnik Fights Back to Win
Game 4: Fritz Tries a New Twist and Earns a Draw
Game 5: Paul Hoffman – Kramnik is All Too Human
Game 6: Deep Fritz wins game six to equalise
Game 7: News flash: Game seven drawn
Game 8: Fritz Defends to Draw Game 8 and the Match!
Live Flash coverage
The official event site was handled by brainsinbahrain.com. Before the start of the match it became clear that the live coverage might become overwhelmed – in tests we discovered that this would happen at around 100 simultaneous viewers. But vastly more were expected.
Brainsinbahrain asked ChessBase to make it possible for a larger number of viewers to watch the games live. My sons Martin and Tommy sprang into action and created a Flash client, with cutting edge technology (for the time): it executed a page refresh only when a move was made! The page could serve hundreds of thousands, even millions of visitors at the same time. In the end it served us very well. It even showed live text comments we could enter from the venue in Bahrain.
Unfortunately I cannot show you the client live in action, since Adobe retired its Flash Player on Jan. 1, 2021. So just a screenshot of a simulation:
A large number of international news sites installed the Flash Client on their pages
The match between Kramnik and Deep Fritz generated a huge amount of interest. The news media all around the world went into frenzy mode. During the match we collected links to major articles in Time, The Times, Herald Tribune, New York Times, CNN, Voice of America, etc. Here's a selection (warning: it goes into the hundreds). And if you are feeling really brave, take a look at the media coverage stats collected by the organisers.
And here are all the games, most deeply annotated, for you to replay and study. Note that you can start a built-in engine (fan icon) and see what a 2021 engine would play.
Pictorial impressions of the match in Bahrain
Vladimir Kramnik at the London announcement of the match, with GM Raymond Keene (who initiated the event) and Fritz programmer Frans Morsch. This press encounter took place in the press room of giant Wembley Stadium.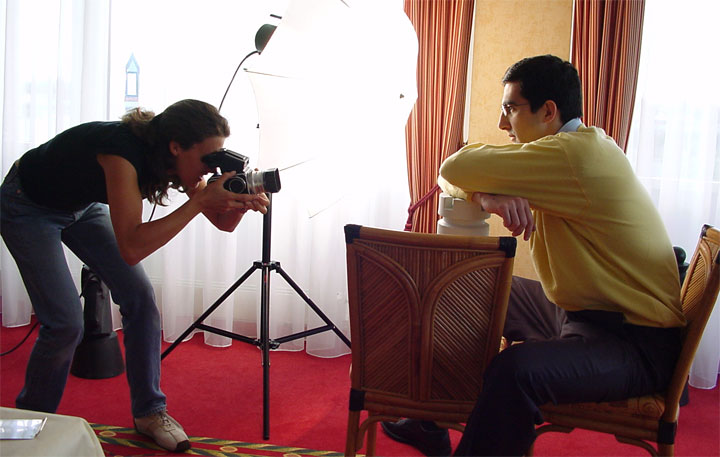 Before the match Vladimir spent a week in Weiskirchen, Germany, practising against the Fritz program. He was interviewed by major news magazines, above by a team from Der Spiegel.
And then off to Bahrain, and the luxury beachside hotel in which we stayed.
The entrance of the hotel, where we spent three weeks in great luxury
At the opening ceremony with Prince Salman bin Hamad Al Khalifa. Yes, that's me without the trademark goatee – I lost it as part of a wager. Nigel Short approved of the change, Vladimir did not. On the right you can see what I looked like when I arrived in Bahrain.
I had to give a speech, which was recorded in the low resolution we used at the time.
After the ceremonial speeches we were introduced to the royal hunting hawk. His Royal Highness was quite impressed by my courage. It got me an invitation to the Palace.
Hardware check at the venue: chief programmers Matthias Wüllenweber and Mathias Feist play a trial game against Fritz running on the eight-processor Compaq machine.
Then the real thing: Mathias Feist operating Fritz against the World Champion
Kramnik, who had defeated Kasparov in their 2000 world championship match with his rock-solid Berlin Defence, played this opening in his first game against Fritz. It ended with Fritz a pawn up, but unable to see and avoid a blockade. It did not realize that its pawn advantage was completely useless. A quick smile appeared on Kramnik's face when the computer allowed him to end the game with an easy draw.
In game two, Kramnik induced Fritz to make several mistakes. The program fought tenaciously, and the World Champion confessed he had been surprised by the "inhuman" defence. He almost resigned himself to a draw, but kept firm control of the position and won. 
Fritz author Frans Morsch anxiously following the games – and his program's evaluation
Frans with Vladimir in the postgame press conference. Inset Kramnik during the game.
GM commentator Nigel Short was critical of the Fritz Team's decision to resign on move 57. "There are several long variations for White to calculate," he said, "many choices to make. It's not that simple. Black should have played on for at least ten more moves." Above Nigel, in the red cap, shows the Fritz team and journalist Mig Greengard the tough lines Kramnik had to find to win the game.
For details on the further course of the match please check the above links to the reports filed at the time, and replay the annotated games. Here just some further general impressions.
While we were in Bahrain the boxing brothers Vitali and Wladimir Klitschko, both avid chess fans, visited the ChessBase office in Hamburg, and tried their hand against Fritz in Bahrain.
That's me in Bahrain, operating Fritz against the Klitschkos in Hamburg. They are great friends of Kramnik and wanted to show their support in his match against the computer.
Bahraini youth meeting the World Champion and learning about his opponent Fritz 
Men in Black: ChessBase programmer Mathias Feist, openings book author Alexander Kure, Austria, and Fritz engine programmer Frans Morsch, Holland
All Fritz history articles