These White Chocolate Cranberry Oatmeal Cookies are chewy, sweet with a hint of tart, and so easy to make.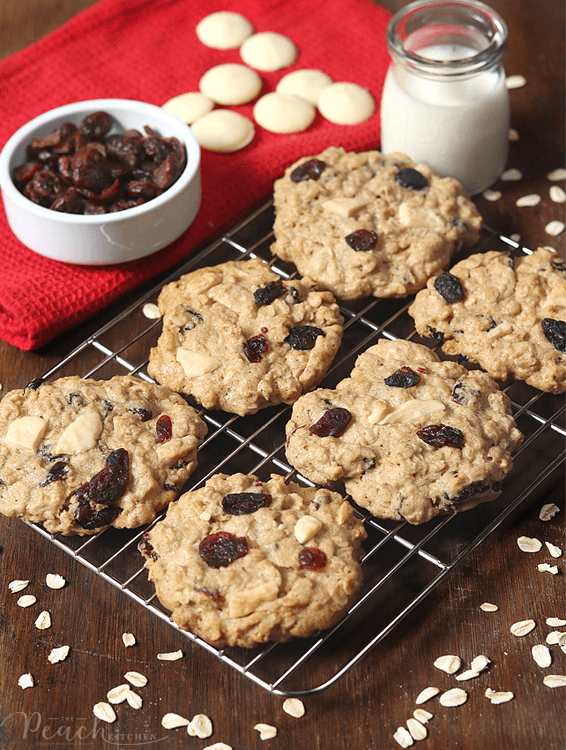 I love oatmeal cookies — especially Oatmeal Raisin Cookies — I think you get a yummy snack or dessert but it's a little bit healthy too because of the oatmeal. On the other hand, my daughters are not really fond of oatmeal cookies. I found a way to make them like it — I added white chocolate and then I replaced the raisins with dried cranberries since we have a lot of them.
Actually, I have been meaning to make this since last month. We have lots of dried cranberries kasi given to us by an aunt from US. Isa pa,  I think this is a festive cookie at bagay sya sa Christmas season because of the red and white.  As for the white chocolate naman, I don't have white chocolate chips but I have this Goya White Chocolate Buttons — I chopped it roughly to make white chocolate chunks.
CAN I USE INSTANT OATS INSTEAD OF ROLLED OATS?
Yes, but your cookies won't be as chewy because instant oats absorb more liquid. Make sure to use old fashioned rolled oats for this recipe if you want your cookies chewy.
DO I HAVE TO CHILL THE DOUGH BEFORE BAKING?
I was in a hurry so my recipe didn't call for chilling the dough but I recommend letting the dough chill for half an hour. This helps the cookies develop a more pronounced brown sugar flavor and a chewy texture.
Ano naman kayang mai-bake sa susunod?
WATCH VIDEO HERE:
Cranberry White Chocolate Oatmeal Cookies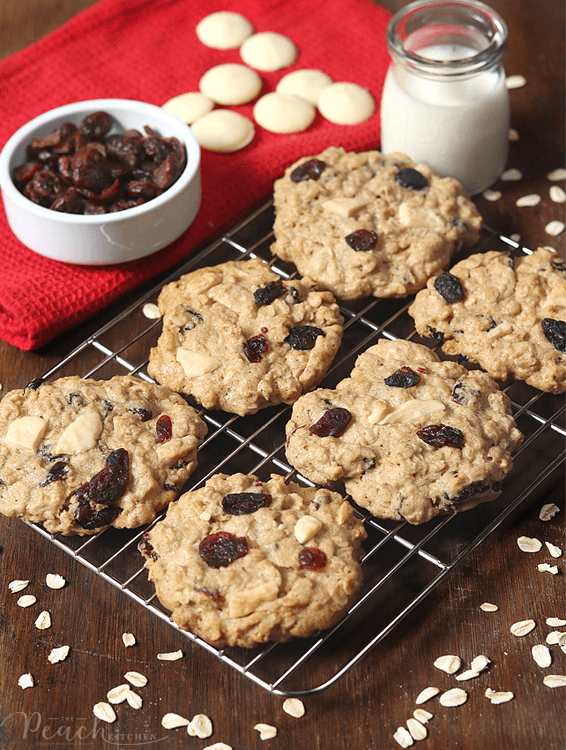 Author: Peachy Adarne
Serves: 16 cookies
Ingredients
½ cup butter, softened
½ cup brown sugar
½ cup white sugar
1 large egg
1 tsp vanilla extract
1 cup all purpose flour
½ tsp cinnamon
½ tsp baking soda
¼ tsp salt
1 and ⅔ cups rolled oats
¾ cup white chocolate chips + more for toppings
¾ cup dried cranberries + more for topping
Directions
Combine the flour, cinnamon, baking soda, and salt in a separate bowl. Set aside.
In a large bowl, cream butter and white and brown sugar until smooth.
Beat in egg and vanilla.
Stir the flour mixture into the butter and sugar bowl.
Gently stir in rolled oats, white chocolate chips and cranberries.
Preheat the oven to 325 F.
Scoop the dough on your baking trays and flatten a bit. Top it with more white chocolate chips and dried cranberries.
Bake the cookies for 13-15 min or until lightly browned. Do not over bake. Let cool on the cookie sheets for a few minutes and then transfer to a wire rack.
3.5.3251
Related