On Monday the 8th Sunway Sitges International Chess Festival started in Sitges. For the A-Open 280 players have registered, among them more than 30 grandmasters. Top seed is Anton Korobov from Ukraine, second seed is Ivan Cheparinov. Behind him follows Nihal Sarin as the best player of the large Indian delegation, which is 69 players strong and includes ten Grandmasters and two WGMs.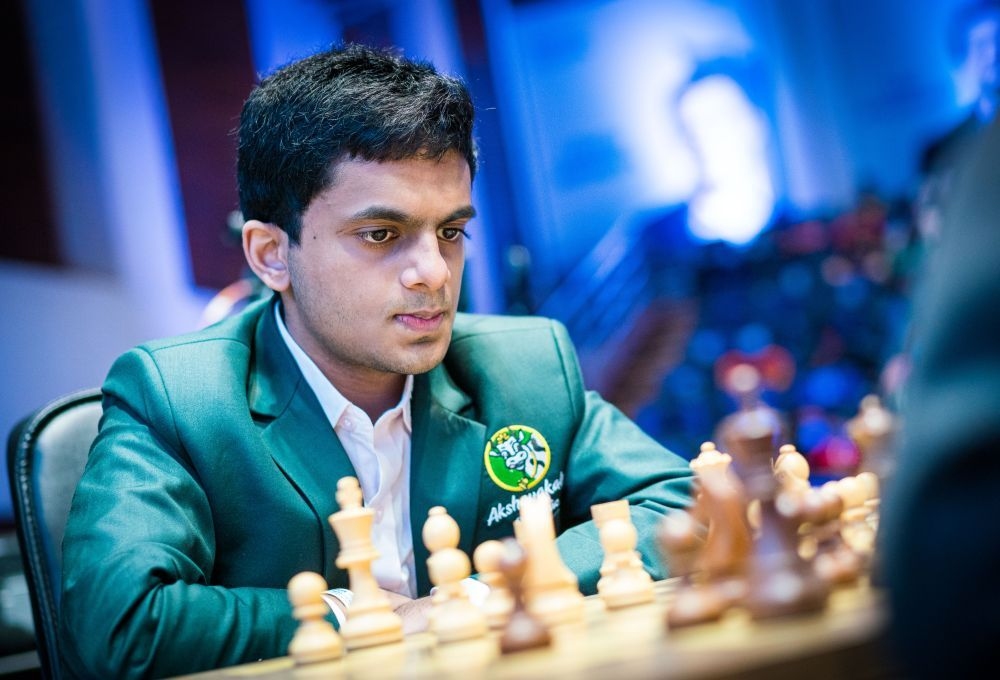 Nihal Sarin | Photo: Lennart Ootes
113 players take part in the B-Open which is limited to players with an Elo-rating of <2001.
The players in action | Photo: Rupali Mullick
After 3 rounds no less than 19 players still have a perfect score. Top seed Anton Korobov is among this group of 19 players and in round 3 he won a nice positional game, in which he demonstrated why positions with opposite-coloured bishops are everything but drawish when other pieces are still on the board.
Standings after round 3
Rk.

Snr

 

 

Name

Country

Elo

Pts.
1

45

 

IM

Quintiliano Pinto Renato R.

BRA

2466

3,0
2

1

 

GM

Korobov Anton

UKR

2699

3,0
 

2

 

GM

Cheparinov Ivan

BUL

2664

3,0
 

14

 

GM

Safarli Eltaj

AZE

2579

3,0
 

31

 

GM

Priasmoro Novendra

INA

2502

3,0
6

11

 

GM

Sethuraman S.P.

IND

2613

3,0
 

16

 

GM

Kadric Denis

BIH

2572

3,0
 

23

 

GM

Suleymanli Aydin

AZE

2537

3,0
 

32

 

GM

Harsha Bharathakoti

IND

2489

3,0
 

37

 

IM

Garriga Cazorla Pere

ESP

2477

3,0
11

4

 

GM

Niemann Hans Moke

USA

2645

3,0
 

90

 

IM

Soumya Swaminathan

IND

2351

3,0
13

10

 

GM

Vocaturo Daniele

ITA

2621

3,0
 

19

 

IM

Livaic Leon

CRO

2547

3,0
 

29

 

IM

Sankalp Gupta

IND

2504

3,0
16

30

 

IM

Muradli Mahammad

AZE

2503

3,0
17

12

 

GM

Puranik Abhimanyu

IND

2604

3,0
 

25

 

GM

Van Foreest Lucas

NED

2530

3,0
 

46

 

GM

Rios Cristhian Camilo

COL

2460

3,0
20

239

 

 

Devnani Kush

IND

1934

2,5
21

3

 

GM

Nihal Sarin

IND

2662

2,5
 

7

 

GM

Karthikeyan Murali

IND

2630

2,5
 

24

 

GM

Dardha Daniel

BEL

2533

2,5
24

41

 

GM

Stefanova Antoaneta

BUL

2469

2,5
 

117

 

FM

Dalaud Dorian

FRA

2275

2,5
26

50

 

IM

Pranesh M

IND

2437

2,5
27

21

 

GM

Maze Sebastien

FRA

2541

2,5
 

63

 

IM

Baenziger Fabian

SUI

2409

2,5
 

80

 

IM

Moksh Amit Doshi

IND

2368

2,5
30

9

 

GM

Kollars Dmitrij

GER

2622

2,5
 

62

 

GM

Neelotpal Das

IND

2410

2,5
 

84

 

FM

Manu David Suthandram R

IND

2360

2,5
33

44

 

IM

Kurmann Oliver

SUI

2466

2,5
34

5

 

GM

Tabatabaei M. Amin

IRI

2643

2,5
35

34

 

IM

Dann Matthias

GER

2482

2,5
 

65

 

FM

Hess Max

GER

2404

2,5
37

35

 

IM

Di Berardino Diego Rafael

BRA

2480

2,5
 

111

 

FM

Kenneskog Theodor

SWE

2307

2,5
39

6

 

GM

Abdusattorov Nodirbek

UZB

2633

2,5
 

8

 

GM

Erigaisi Arjun

IND

2629

2,5
 

51

 

IM

Mohammad Nubairshah Shaikh

IND

2429

2,5
 

64

 

IM

Sukandar Irine Kharisma

INA

2407

2,5
43

70

 

IM

Dionisi Thomas

FRA

2396

2,5
44

53

 

IM

Boyer Mahel

FRA

2427

2,0
 

211

 

CM

Aaditya Dhingra
280 players
Games
Links