A fifth title for Magnus Carlsen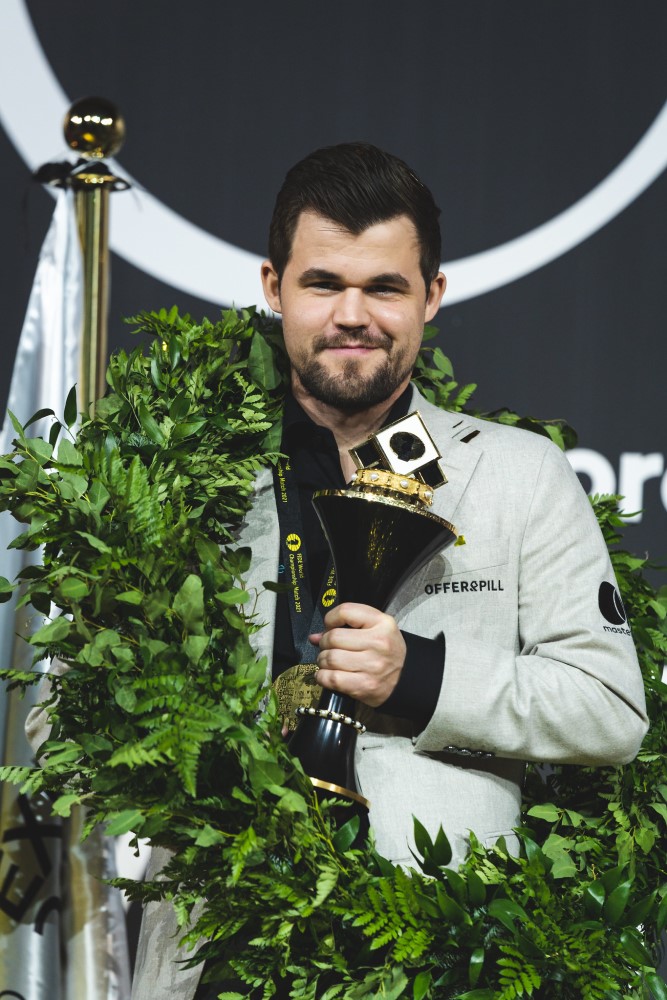 On Sunday, December 12, Magnus Carlsen of Norway lifted the trophy for the World Championship aloft for the fifth time in a row. The closing ceremony was broadcast live on a range of media and culminated with the champion, a gold medal around his neck, trophy raised, in a long, breezy shower of gold confetti.
It wouldn't be an event ceremony without a series of dignitary speeches to round off and reflect on the occasion. Master of Ceremonies Maurice Ashley called upon Omar Shehadeh, the Chief International Participants Officer of Expo 2020 Dubai, the host and partner that was ready to help stage the championship in such uncertain, pandemic times.
Shehadeh joked that he was disappointed not to be making the first move in game 12 as planned before congratulating both players and hoping that they would take time to sightsee in the host country. He also referenced the immensity of the exciting project, with planning for the match taking place over two long and hectic years.
Dedicated sponsor
The CEO of PhosAgro, FIDE's long-term sponsor and partner, was the next speaker. Andrey Guryev had apologized to the champion in the pre-match press conference — for being unable to hide his hopes for a return of the chess crown to Russia.
Having sponsored four consecutive title matches, Guryev has seen many Carlsen victories but found some comfort in two challengers he could root for during this time. Renewing his pledge to "continue to develop a new generation of players", he congratulated 'Iron Magnus' on his victory. "For now, the Norwegian king of chess remains unbeatable," he said.
Presidential thanks
FIDE President Arkady Dvorkovich gave the final speech before the coronation. He also devoted time to thank all those involved in the immense effort required to complete an unusually lengthy and problematic title cycle, as well as the media and commentators gathered in Dubai who helped focus so much attention on the event. The sponsors and players were also honoured, with an emphasis on the valuable experience gained by the challenger, and Carlsen's consistency, persistence and love for the game singled out.
Concluding the preliminary formalities, Dvorkovich called Carlsen 'a huge ambassador of chess throughout the world'. "Thank you for your contribution and for the entire team that helped achieve that."
Arkady Dvorkovich and Magnus Carlsen | Photo: Eric Rosen
Prizes and parting words
Challenger Ian Nepomniachtchi was called up to receive the always underappreciated, bittersweet silver medal before the layering of awards on the champion and the climactic explosion of gold.
The winner's speech came after Magnus was draped with the laurel wreath and managed to grip a microphone amidst all the prizes hanging from him. After thanking FIDE and the Expo in Dubai for a 'very pleasant experience' before moving on to more personal matters. He thanked his family and team:
Even at a moment when my motivation may have been lacking a little bit for this particular championship, theirs never wavered.

Usually, at the end of these championships, there are things you are happy with and things you are less happy with, but this time I can say I'm fully satisfied with my performance – and that's a great feeling!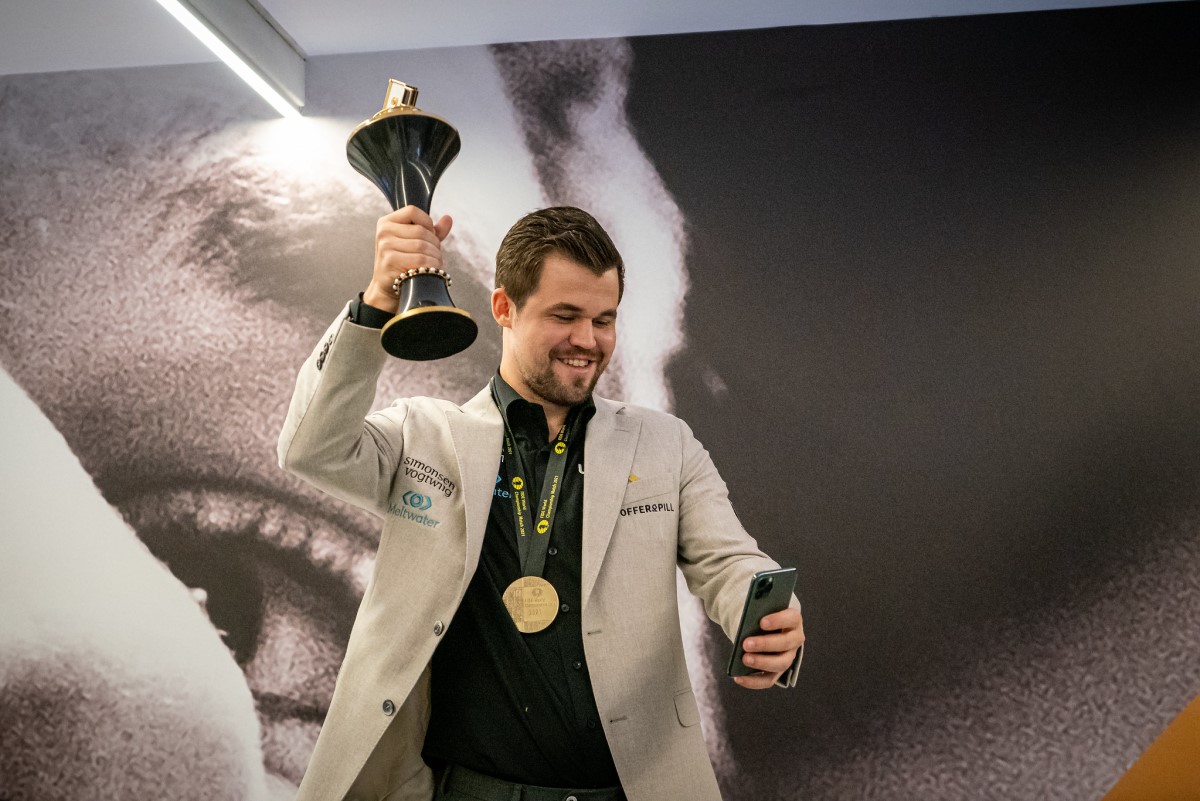 Selfie time! | Photo: Eric Rosen
Trophy details: The FIDE World Championship Cup Dubai 2021, weighing over 5 kilograms, is made of 925 sterling silver with 999 gold plating, dolerite, and obsidian, and is set with 39 pearls and a diamond. The cup was designed by FIDE and created by masters of the CHAMOVSKIKH Jewelry House with the support of the Sverdlovsk Region Chess Federation, represented by its president Andrey Simanovsky, owner of SIMA-LAND.
---
---
Links