Betrayal?
Few countries take as much as pride in the achievements obtained by their athletes as Russia. Following a Soviet-era practice, when the royal game was used as a symbol of intellectual superiority, the Russian government often gets involved (at the very least symbolically) when a representative of the country or the national team participate in international competitions.
Although the times of Soviet supremacy in chess are long gone, Russia continues to be a force to be reckoned with in the sport's elite. Currently, 11 out of 39 players rated 2700 or above hail from Russia, with China and the United States tying in second place (in terms of number of players) with 5 representatives each. Moreover, at the latest edition of the Candidates Tournament, 3 out of 8 players were Russian — albeit including the organizer's nominee, Kirill Alekseenko.
However, what the Russians are lacking is the World Championship title. Ever since Garry Kasparov — a vehement opposer of the Putin's regime — dominated the world of chess and was then succeeded by his compatriot Vladimir Kramnik, Russia has failed to produce a player capable of taking the crown away either from Vishy Anand or Magnus Carlsen. They did get two challengers though: Sergey Karjakin in 2016 and Ian Nepomniachtchi in 2021.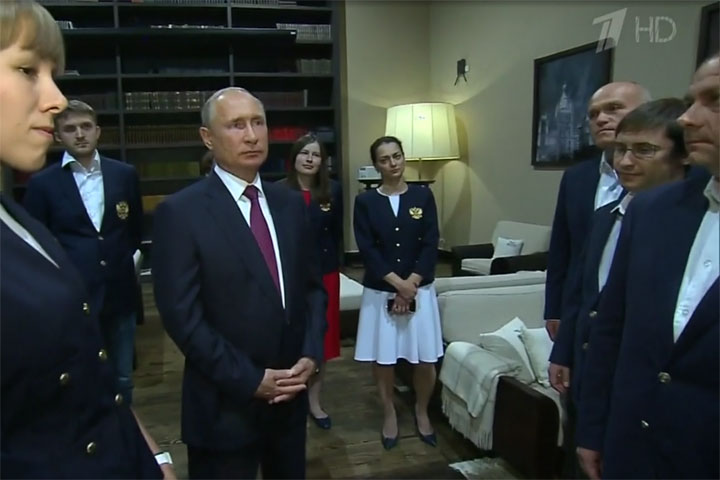 Vladimir Putin at the training camp of the Olympiad Russian teams in Sochi (2018)
While Nepo is not one to often voice his political opinions — or talk much about his private life in general — Karjakin openly showed his nationalistic pride during his preparations to face Carlsen five years ago. Thus, it was not very surprising to see him being the first one to question on social media the fact that a member of the Russian team had worked for Carlsen's team as a second.
Of course I congratulate a World Champion, but just a small remark.

Imagine you have to play a World Championship match against Carlsen. Will you accept help from let's say…Hammer or Tari?

— Sergey Karjakin (@SergeyKaryakin) December 10, 2021
Karjakin was referring to Daniil Dubov. Right after the match, Peter Heine Nielsen, the world champion's top aide, shared on Twitter the names of the players who had helped Carlsen prepare for the match in Dubai. None of the names was particularly surprising — not even Dubov's, since it is a well-known fact that he had worked with the Norwegian in the past.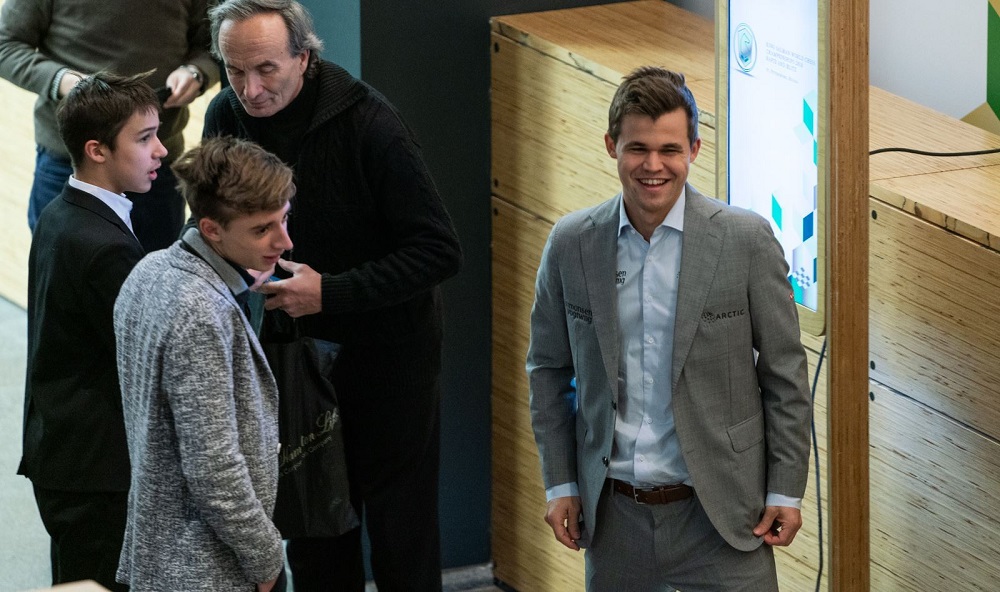 Daniil Dubov right after winning the 2018 World Rapid Championship — the Russian finished ahead of Magnus Carlsen, shortly after helping the Norwegian defend his classical title against Fabiano Caruana in London | Photo: Maria Emelianova
The controversy was not obvious for non-Russians, although after seeing Karjakin's tweet and given the factors mentioned above, it is not difficult to put two and two together, and note that Dubov most likely had to consider this aspect when deciding to work for Carlsen this time around. The 25-year-old clarified to Grigory Telingater for championat.ru (see an English translation of the interview by Colin McGourty here):
GT: And when did you start [working for the match in Dubai]?

DD: Before the start of the Candidates. I was asked what I thought about the idea of helping. I replied that it would be normal. That's perhaps the first thing I'd like to point out about the rather strange criticism. In normal teams all the agreements are formulated in advance. 

You don't have to wait for who wins the Candidates in order to start preparing.
The ever-confident Dubov was aware of the potential backlash once his compatriot became the challenger, though. His stance on the subject is clear, nevertheless, and is based on the fact that the match for the World Championship title is an individual competition, not a contest between national teams:
GT: When Ian won the Candidates Tournament, did you think that hate would come your way because of your cooperation with Magnus?

DD: That someone might not like it is nothing new. It's not the first time I've encountered this and I'm relatively calm about it. For me there's no issue. I think it's the same for Ian. When people talk about the state or the Russia team, then that's precisely the Russian team. Here, after all, it's not Russia versus Norway.
At Magnus Carlsen's training camp
In the same outlet, championat.ru, Vishy Anand was asked about the whole controversy, with the Indian making a useful analogy:
We live in a globalized world, where people calmly work for foreign companies, move to other countries, take foreign players into their football teams and even support football clubs from other countries.
Dubov shared a similar sentiment, and even went as far as noting that his involvement in Carlsen's team could be presented as a worthy achievement by a member of the Russian national team:
In general you could logically look at all this differently. From the point of view of the Russian team: one of the best Russian chess players, relatively young, has worked with the best chess player in history — he's gained experience that will help him in his career.
---
Magnus Carlsen presents his team
Dubov: I think it's kind of important for him to actually like the guys. For instance, the Russian team it's exactly the opposite — they would normally bring all the biggest guns in, it's basically you just use all the power. Here it's a European approach — mostly you care about some atmosphere and so on, and only then you need people to work well.
---
There is talk about Dubov being banned from the Russian team after this 'incident'. Not getting to see such a creative player in team events will surely be a huge loss for the chess community worldwide. Therefore, let us hope this issue is solved by different means, or that it be simply left alone.
Links